STORY
CAP program offers planning, design to towns in need
Students gain real-world experience
When Amanda Tharp decided to advance her education at CU Denver's College of Architecture and Planning, she hoped she would land an exciting internship.
She never imagined she would find herself standing at a podium in front of the Salida town council with television cameras recording every word as she presented her designs for the renovation of a favorite local event and community center.
"I had never spoken at such a formal meeting, much less one with all the city leaders," Tharp said. "They didn't treat me like a student—they treated me as if I were part of an actual design firm. They gave me feedback on my design and are talking about actually getting it built! That's why I love being part of this kind of project."
The University Technical Assistance Program
Tharp is just one of more than 30 students getting real-world experience through the University Technical Assistance (UTA) program, which matches talented undergraduate and graduate students with small Colorado communities that have special planning and design needs they cannot address with local resources and staff.
UTA is a program within CU Denver's Colorado Center for Community Development (CCCD), a center that has partnered with communities and neighborhoods for nearly 50 years, completing more than 2,000 projects around the state.
"We help local communities help themselves," said Vickie Berkley, CCCD's assistant director for civic engagement . "There is something wonderful about how much impact one project can have on a community."
UTA has tackled a variety of community projects, including schoolyard designs, surveys, wayfinding signage, community centers, bike and hiking trails, parks and tourism. Students have worked in many small Colorado towns, including Mancos, Hayden, Yuma, Saguache, Salida, Fruita and Rye.
Funding for UTA comes from the Colorado Department of Local Affairs (DOLA). With DOLA support, UTA employs three professionals experienced in architecture and landscape architecture to supervise projects and mentor students. Students are paid for their work, with a community typically picking up 50 percent of the project cost and UTA paying the other half.
Because UTA work varies and can include everything from brochure design to public health surveys in all four corners of the state, students from all schools and colleges on all four campuses in the University of Colorado system can apply to be hired by the program. CCCD is considered a professional experience provider for architecture students; their UTA work will be credited toward the 2,000 hours of professional experience required before they take their exams to become licensed architects.
"What UTA does is at the heart of the mission for a college that focuses on design and urban and community planning," said Christopher Koziol, PhD, CCCD director and associate professor of architecture. "It creates opportunities for students to learn what works and what doesn't work when engaging a client. And it offers services to clients who would not otherwise get professional design consultations."
Favorite Success Story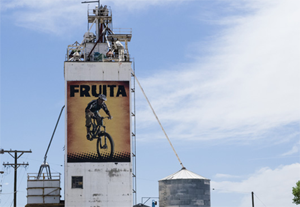 Ask  Berkley to pick a favorite UTA success story and she doesn't hesitate. It's the small Western Slope town of Fruita,  population 13,000.
Back in the early 1980s, Fruita made a large public investment in infrastructure, anticipating rapid growth because Exxon was planning to develop oil shale in the region. Then came May 2, 1982—"Black Sunday" in Colorado—the day Exxon announced it was ending the project and laying off thousands of workers. Heavily in debt, Fruita found itself nearly bankrupt.
"The town had great leadership," said Berkley. "But they were struggling. What they needed was assistance turning some of their ideas into reality."
Fruita leaders contacted the CCCD office in Grand Junction and asked for help finding  economic development strategies to bring in a new tax base. CCCD surveyed the number of cars passing by on Interstate 70 and the student-gathered information convinced the state to locate a welcome center in Fruita.  When cars started to get off the highway bringing new visitors, UTA students returned to Fruita to develop more attractions, including a dinosaur museum and trails for mountain biking. UTA students also created designs to improve the streetscapes in the town center and to renovate a boarded-up historic schoolhouse and turn it into the city hall and library.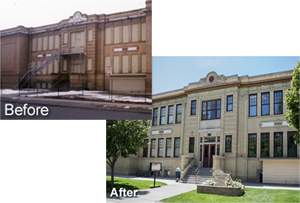 "Today Fruita is a vibrant small community, with a wonderful downtown, filled with locally owned businesses," said Berkley. "There are parks with activities, a bandstand with concerts, and all of this was designed by UTA students."
Strengthening communities through engagement and design.
CCCD had its own version of Black Sunday in 2010 when the Colorado Legislature suspended funding for the program during the recession. In 2012, with an improving economy, the state was able to restore funding to local communities. Ultimately, CCCD was awarded a $1 million grant over 18 months to restart and expand UTA. The university is currently in discussions with DOLA to continue the program for another five years. With the level of current success, the future of UTA looks bright.
Future funding will mean that students like Lisa Hanano, who is working on her master of landscape architecture, will continue to develop projects in Colorado towns like Ridgway, Hayden and Mancos. In Ridgway, Hanano, who has also studied kinesthiology, designed a children's playground which is now under construction.
"Each project I have worked on has played a role in strengthening the community," said Hanano. "I feel so proud of what I have done."
Daniel Navarro-Gomez, who already has a master of urban design and has returned to school to work on a master in landscape architecture, is gathering information from the residents of Cortez to evaluate the land-use code according to community values. "This gives students a professional environment to translate what they learn in the classroom into a real setting," he said. "You are always working with members of the community to understand what they want and how to make it happen."
"On every project, you always have to remember this is their community and they have to be involved in every step," Berkley adds. "At the same time, our students are learning an important life lesson. There is something truly gratifying about working for the public good."