STORY
Campus responding to hospital demand for baccalaureate-prepared nurses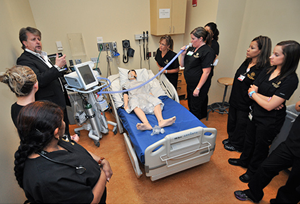 Kristen Califano already has a career. She has worked as a registered nurse for five years — but now she's working toward her bachelor's degree in nursing at CU Anschutz.
"Having a bachelor's degree in nursing will help open up more opportunities in nursing and help me maintain a marketable status in the current job market," said Califano, who is an RN to BS in nursing student at the CU College of Nursing (CON) on the Anschutz Medical Campus.
Research has shown the impact of nurse education levels on patient care outcomes — better-educated nurses lead to better health care. For this reason, CON offers — in addition to its master's degrees, doctorates and Ph.D.s — four options for a bachelor's degree in nursing.
"Baccalaureate nurses are prepared to be generalists, practicing across varied populations and settings," said Gayle Preheim, RN, EdD, CENP, CNE, director of CON's Baccalaureate Nursing Program.
Unprecedented momentum
Historically, most nurses had about the same level of training and education. But things are changing, and now, to attract clients in today's competitive health care market, hospitals and clinics are increasingly looking for RNs with bachelor's, master's and doctorate degrees.
"We now see unprecedented momentum," said Preheim, who has been a nurse for 40 years. "There are more incentives and opportunities for nurses to complete the BS in nursing through dual admission, seamless progression and support from both education and practice entities."
Califano, one of 425 students in CON's baccalaureate program, feels motivated by the challenge of expanding her knowledge.
"After five years of nursing, I am comfortable with the technical aspects of the job," she said, "but I really appreciated the big-picture perspective I have gained from the theoretical, professional and research curriculum in (CON's) bachelor's program."
80 percent by 2020
A growing body of research studies provide evidence of the impact on patient care outcomes when staffing ratios include more baccalaureate prepared nurses, Preheim said.
"Tremendous opportunity exists as employers seek to enhance the quality of care by hiring more baccalaureate-prepared nurses," she said.
Evidence
In response to recent research, there is an increasing need for baccalaureate prepared nurses.
The Institute of Medicine (PDF) has charged leaders in the field of nursing to increase the proportion of nurses with baccalaureate degrees from less than 50 percent to 80 percent by the year 2020.
Many health care organizations have received or are working toward "Magnet Recognition" from the American Nurses Credentialing Center, which requires that 80 percent of RNs have a baccalaureate or master's degree in nursing by 2020
In a survey of nursing programs from the American Association of Colleges of Nursing, 77 percent of employers expressed a strong preference for baccalaureate graduates.
Colorado needs more nurses
The future looks very bright for CU Anschutz nursing students. That's because, according to a report from the Colorado Center for Nursing Excellence:
Baby boomer nurses—32 percent of all Colorado nurses—are beginning to retire.
The state population is continuing to grow steadily.
The state's older population, which has greater health care needs, is also growing.
That means Colorado needs more nurses, a lot more. Chris Serna will be one of them soon. With a bachelor's degree in nutrition and chemistry, he's working toward his bachelor's in nursing and wants to work in an intensive care unit.
"Due to this top-tier education, I feel confident that, following graduation, I will be able to find a position in the ICU," he said.
One clear choice
What makes CON so great?
"The Anschutz Medical Campus and the CU College of Nursing are recognized leaders in interprofessional education," said Candace Berardinelli, RN, Ph.D., associate professor of nursing. "Nursing students learn and apply evidence based concepts within facilitated contexts of ethical, professional practice."
Berardinelli also listed, among the college's unique strength, its emphases on patient-centered care, nursing informatics and clinical experience. As part of Serna's clinical experience, he's working as an advanced care partner at the University of Colorado Hospital.
"(I work and learn) alongside the top nurses in one of the best hospitals in the nation," Serna said. "This is an opportunity that I am very grateful for."
For Califano, the appeal of the program is its flexibility and accessibility, as many courses are offered online.
"The CU Anschutz RN-BSN online program was a good fit for me, because it has allowed me to pursue a degree while working full time and having a family," she said. "I chose the CU College of Nursing, because it has a good reputation and is associated with many resources."
CON offers both traditional and accelerated options for nursing degrees. Beginning in January 2014, students can earn a University of Colorado Accelerated Nursing (UCAN) degree through an intensive yearlong program.
"When I was exploring my options in terms of my education," Serna said, "there was only one clear choice: the University of Colorado College of Nursing."