STORY
Campus ready to twist, rock and munch at first block party Friday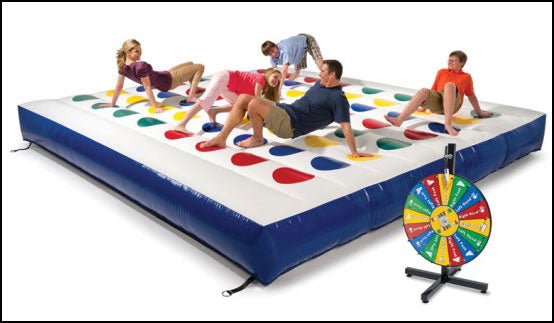 You may have seen the fliers. Heard talk. Received an e-mail. Felt the excitement build. Now, the wait is almost over. The first-ever Anschutz Block Party happens from 11 a.m. to 2 p.m. Friday, just south of Building 500.
The Anschutz Block Party is designed to encourage everyone on the Anschutz Medical Campus to get to know one another better. From the CU Anschutz students, faculty and staff to the employees at the University of Colorado Hospital, Children's Hospital Colorado, University Physicians Inc. and any number of centers and organizations, everyone's invited to come out and get to know their neighbors.
With a nod to health and wellness, there will plenty of active party games to get you up and moving.  Look for volleyball nets, ladder ball and cornhole games. Even a giant, inflatable Twister board. There will also be prize wheels and giveaways. Plus, the ultimate in mid-day relaxation­— chair massage.
The stage will be set up on the south end of the party. Music will be provided by The Belle Jar with Ph.D. candidate Courtney Wilson, award-winning local blues band The Delta Sonics, Dogs in the Yard featuring CU faculty member Dan Bessesen, M.D., and the Aurora Symphony's Brass Quintet. Kim Robards Dance will perform an audience-participation dance/ exercise program.
11- 11:45 a.m. - The Belle Jar
11:45 a.m.- Noon  - Kim Robards Dance
Noon- 12:45 p.m. - The Delta Sonics
12:45- 1:15 p.m.  - Aurora Symphony Brass Quintet
1:15- 2 p.m. - Dogs in the Yard
Lunch will be available for purchase from a variety of vendors. Your favorite food trucks will be there as well as local food vendors from the surrounding community. Restaurants expected to participate include Bistro Elaia, Lupitas, Blue Lagoon, Sue of Siam, Spicy Pickle, Chai & Chai and Panda Express. Food trucks planning to attend include Manna from Heaven, Freddy's Cuisine, Solar Roast, Saj Xpress, Tasterie Truck, East Coast Joes, Sweet Cow Ice Cream, Corner Gourmet, Gusto's Kitchen and Pink Tank.
The idea for an annual campuswide Anschutz event was first suggested by Lilly Marks, vice president for health affairs at the University of Colorado and executive vice chancellor for the Anschutz Medical Campus. "I wanted something that pulls everyone together on this new and wonderful campus, from students to faculty to staff at CU and the hospitals here that we partner with," Marks said. She anticipates the inaugural Anschutz Block Party being a great event. "So great that it becomes an annual tradition that reaches more and more people in our campus community and the Aurora neighborhood around us."