STORY
Campus encourages volunteerism with Giving Back Campaign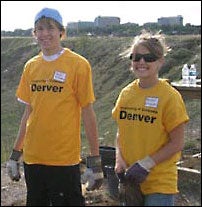 As the holidays approach, the University of Colorado Denver will be celebrating in an unconventional way. In honor of the season's spirit of giving, Chancellor M. Roy Wilsonis launching a Giving Back Campaign.
During the campaign, which runs through Feb. 1, all faculty and staff will be given one half-day of work time to go into the community and participate in a volunteer activity of their choice. After the activity is completed, participants will be asked to visit the Giving Back Campaign Web site to provide a brief synopsis of accomplishments. These stories will be used to tell the story of the contributions the university makes to the community every day.
For more information, visit the Frequently Asked Questions page or contact Genia Larson, director of the office of outreach and events, at 303-315-2059 or Outreach.Events@ucdenver.edu.