STORY
CAM live iron pour thrills crowd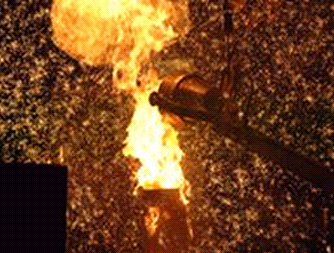 Embers flew. Molten iron flowed. The crowd oohed and aahed.
Sculpture students and faculty in the University of Colorado Denver's College of Arts and Media, joined by Matthew Toole, renowned visiting iron pour artist, put on a stellar show of cast-iron creativity outside the Arts Building Thursday evening. The iron pour event, which was equal parts performance and demonstration, was presented by CU Denver Live!
"Every ember -- you'll see it," said Joseph Short, a student in Associate Professor of Sculpture Rian Kerrane's iron casting class. "Hopefully, we'll get a rain of fire, so to speak."
Short's prediction came to be, as embers exploded from the top of one of the towers being cast, showering onlookers -- more than 100 circled the courtyard -- with sparks.
With 20 students and faculty, Toole worked against the backdrop of a setting sun and an electric guitarist playing heavy notes, befitting the industrial-meets-pagan atmosphere. At the center of the heavy metal production was a towering cupola containing iron heated to 2,700 degrees and tended by workers in heat-resistant gear (one worker's helmet featured rams horns).
A pivoting lever carried the molten iron to the towers, each of which flamed and sparked as the iron was poured inside.
Several days of preparation began when Toole, visiting from the Savannah College of Art and Design, gave a special lecture and led the students in the construction of the pivot lever and towers. Also, CU Denver Live! offered free sand molds to CU Denver students, who carved designs into the molds and watched them turn into art during Thursday's iron pour.
"The sense of community is great," said Joann Brennan, associate dean of the College of Arts & Media. "The way students integrated into the process (of the live pour), the way campus students had an opportunity to create a work of art -- it's really spectacular."
Kerrane, who will lead a Maymester program to the Western Cast Iron Art Alliance conference in Hays, Kan., said the pivot lever made by the students will get named and become part of the CU Denver Sculpture Program. Her students work with bronze and aluminum, but iron is special because "they never work as hard as they do with iron. That's why they get this much satisfaction."
Satisfaction is what the audience got as well.
"I've never seen anything like this," said Joseph Khot, a freshman studying accounting.
Kerrane said she expects the iron pour, in its second year, to continue as an annual Iron Arts Festival on the Denver Campus.