STORY
Call for proposals: LGBTQ+, Ethnic and Minority Affairs Symposium
Free event is Nov. 3 at CU Denver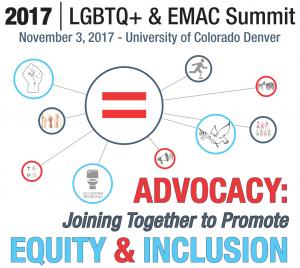 The CU Faculty Council's Second Annual LGBTQ+ and Ethnic and Minority Affairs (EMAC) Symposium is slated for Nov. 3 at CU Denver, and is open to all CU faculty, staff and students.
The council's LGBTQ+ and EMAC committees now are accepting proposal submissions for the free event, where the theme is "Advocacy: Joining Together to Promote Equity and Inclusion."
Faculty, graduate students, and staff are invited to present research and campus climate initiatives that translate theories of intersectionality into advocacy and action, both inside and outside the university.
For more information on submitting a proposal – due by 5 p.m. Oct. 16 – click here.
Event registration also is open – click here for more.
Topics include: Educational and Health Care Access and Equity; Legal Awareness and Legal Issues; Mental, Emotional or Psychological Health; and Inclusive Pedagogy and Inclusive Workplace.
Kevin Nadal, Ph.D., will be the keynote speaker. He is one of the leading researchers in understanding the impacts of microaggressions, or subtle forms of discrimination, on the mental and physical health of people of color; lesbian gay, bisexual, transgender, and queer (LGBTQ) people; and other marginalized groups. An esteemed scholar and activist, Nadal will discuss how faculty, students and staff can work together to create equitable and coalitional cultures.