STORY
Buechner's leadership made impact at CU and in local government
Friday memorial service for president emeritus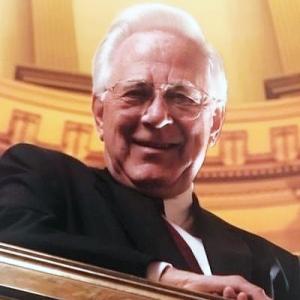 John C. Buechner, Ph.D., president of the University of Colorado 1995-2000, died July 28, 2018. He was 83.
A celebration of his life is scheduled for 1:30 p.m. Friday, Aug. 10, at the First Presbyterian Church in Boulder.
Before being named CU's 18th president in November 1995, Buechner served as chancellor of the University of Colorado Denver, beginning in 1988.
His CU career took root in 1963 at CU Boulder, as a faculty member in the Department of Political Science, where he specialized in municipal government and local politics. He was director of institutional relations in the late '70s.
"John Buechner was a longtime friend who made a significant impact on the University of Colorado, our communities and our state," said CU President Bruce D. Benson. "He had an abiding love for CU and made his mark on the university in many ways – as CU president, CU Denver chancellor and faculty member, and CU Boulder faculty member and administrator. He was also a dedicated public servant as a mayor, city council member and state legislator."
In extending his leadership beyond CU, Buechner most recently served on the Lafayette City Council, to which he was appointed in 2010. He also worked at the Capitol as a member of the Colorado House of Representatives, 1972-74; was mayor of Boulder, 1970-71; and a member of the Boulder City Council, 1967-76. Buechner also belonged to numerous community and civic organizations.
Buechner stepped down as CU president at the end of the 2000 academic year.
In March 2000, Buechner received a gubernatorial appointment to become president of the newly formed Colorado Institute of Technology. He was an elected fellow of the National Academy of Public Administration.
He authored four books and co-authored two others; he also wrote numerous monographs and articles on a number of topics relating to leadership, public administration and politics.
Buechner earned his MPA and a Ph.D. in political science from the University of Michigan; his bachelor's in political science from the College of Wooster in Ohio.
Contributions may be made to National Jewish Hospital, 1400 Jackson St., Denver CO 80206; Attn: Clinical Research and Science Re: Lung Cancer, in memory of Dr. John C. Buechner.
Click here for a statement from the family of CU President Emeritus John Buechner.
Click here for more from CU Boulder Today, including a statement from CU Boulder Chancellor Phil DiStefano.