STORY
Bruce and Marcy Benson honored for exceptional philanthropy
Fellow CU supporters Anschutz-Rodgers, Alexander also receive National Philanthropy Day awards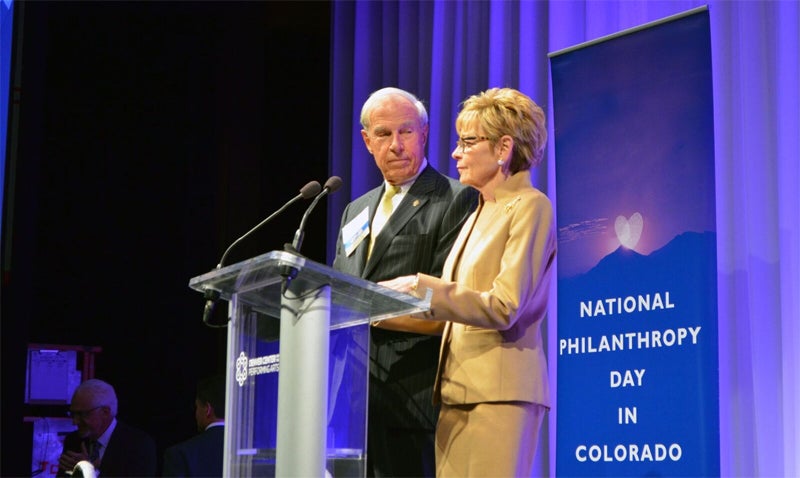 Elizabeth Collins/University of Colorado
Some of the University of Colorado's most committed leaders and supporters last week received distinguished honors from the Colorado Chapter of the Association of Fundraising Professionals, which celebrated National Philanthropy Day with an awards lunch in Denver.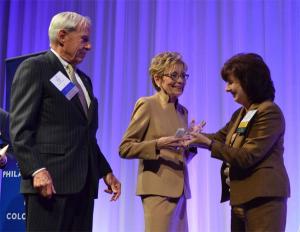 Elizabeth Collins/University of Colorado
CU President Bruce and Marcy Benson were named the joint winners of Outstanding Philanthropist for 2016, presented to an individual who has a record of exceptional personal generosity that demonstrates outstanding civic or charitable responsibility and whose leadership has encouraged others in philanthropic roles.
Sue Anschutz-Rodgers, a generous contributor to the CU School of Medicine at the Anschutz Medical Campus, received Lifetime Achievement honors. The Outstanding Foundation Award went to the Anschutz Foundation, which played a key role in the creation of the CU Anschutz Medical Campus and supports many other nonprofits in Colorado.
The award for Outstanding Professional Grantmaker went to John H. "Jack" Alexander Jr. of the Helen K. and Arthur E. Johnson Foundation. His advocacy was instrumental to the foundation board's decisions to put the family name on the CU Helen and Arthur E. Johnson Depression Center at the CU Anschutz Medical Campus and the Helen and Arthur E. Johnson Beth-El College of Nursing and Health Sciences at the University of Colorado Colorado Springs.
Bruce and Marcy Benson are known for thinking big. Their many contributions to myriad organizations and causes reflect their passion for enriching quality of life in their community. The Bensons have contributed significant leadership gifts to The Denver Zoo, benefitting exhibits, educational programs and conservation efforts. They also support Denver Public Schools, Children's Hospital Colorado, the Boy Scouts of America, the Denver Museum of Nature and Science, Berkshire School, Colorado Uplift and many other cultural and educational organizations and committees.
They have a particular passion for CU, where Bruce Benson has served as president since 2008. His and Marcy Benson's contributions to CU range from Alzheimer's disease research to endowed faculty positions, from athletics to buildings, including the Benson Earth Sciences Building at CU Boulder, honoring the program where Bruce earned his geology degree.
"We're honored to receive this award but also grateful to be recognized along with some of CU's most significant donors," Bruce Benson said.
The Bensons not only lead by example with their giving, but also lead efforts with their time and expertise. They co-chaired two $1 billion-plus fundraising campaigns for CU, including Creating Futures, which exceeded its $1.5 billion goal in 2013.
Whether the cause is education, health care, cultural institutions or youth development, the Bensons are front and center. They are partners who are direct, driven and collaborative, with an innate ability to bring the right people together and energize them, whatever the cause.
While they have received many accolades, Marcy and Bruce remain modest about their considerable impact. When asked recently how they would like to be remembered, Bruce Benson said, "That we care about people and our community."
The AFP Colorado Chapter began in the 1970s as the Colorado Association of Fund Raisers (CAFR). Now with 300 members, the chapter presents educational luncheons, informal Coffee Chats, the annual Rocky Mountain Philanthropy Institute (RMPI), and National Philanthropy Day.
"Philanthropy shows the love of humankind," said Cory Andersen, who chaired the Nov. 10 luncheon at the Denver Performing Arts Complex. "We are blessed to have so many people in Colorado that give their time, talent and treasure to make a difference and create impact in their communities."
Click here for this year's full list of honorees.