STORY
Boulder Staff Council sets spring luncheon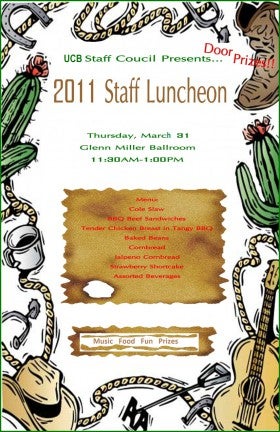 Boulder Staff Council's 2011 spring luncheon, featuring a Western barbecue theme, is open to all CU-Boulder classified/professional exempt staff. The lunch is set for 11:30 a.m.-1 p.m. March 31 in the UMC Glenn Miller Ballroom. Deadline for RSVP, which is required, is Wednesday, March 16. To view a poster for the event, click here.
Cost is $5 per person. Donations of personal care items for Emergency Family Assistance appreciated. This is a green-friendly event.  Bring Buff One card. Contact Staff Council at 303-492-5473 or Scouncil@colorado.edu.
The spring lunch is just one effort of the Boulder Campus Staff Council. It also promotes the local Employee Discount Benefits pages and new state employee discounts atColorado.PerkSpot.com; the fall staff breakfast; summer ice cream social/employee fair; several Bonfils blood drives annually; winter warmth drive; and years of service awards, certificates and ceremony and more.
Membership on the council is not required to take part in committee work; committees include awards, blood drive, communications, elections, health and wellness, outreach events and others.
Boulder campus nominations for staff council are being taken at www.colorado.edu/staffcouncil. You may nominate yourself or anyone else in the classified/professional exempt employee class. Nominees must have approval support from their supervisor.