STORY
Boulder Campus Staff Council hosts annual staff appreciation event
More than 150 recognized for years of service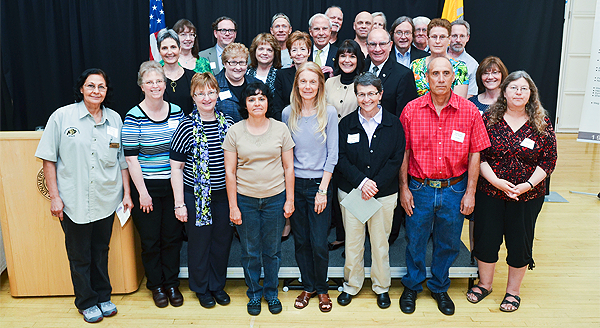 Where were you when President Nixon resigned, Gerald Ford became the 38th president and John Denver's "Sunshine On My Shoulders" was a No. 1 hit?
Turns out then-assistant professor Philip DiStefano was starting his career here at CU.
Boulder Campus Staff Council recently hosted the annual CU-Boulder staff appreciation event for the 38th consecutive year. Some 154 members of the community received acknowledgement for their years of service to CU-Boulder; those who could attend brought their family and friends to help them celebrate.
A breakdown of the staff honored:  20 Years of Service, 55; 25 Years of Service, 37; 30 Years of Service, 14; 35 Years of Service, 2; 40 Years of Service, 1; and Retirees, 45.
Chancellor DiStefano, a 40-year honoree himself this year, opened the event by expressing his deep appreciation for the staff being acknowledged and for the vital role that all staff have in the everyday operations of the university. The honorees then came up to the front and had their pictures taken with the chancellor in front of a cheering crowd of colleagues, family and friends.
Each year Staff Council's Awards and Staff Recognition Committee sends out certificates to five, 10 and 15 cumulative years of service awardees using the HRMS database of the previous calendar year; e.g. staff who obtained the threshold in calendar year 2013 were acknowledged at this year's (May 6, 2014) event. The time lag is needed to compile the list because there is no definitive report that tracks cumulative years of service within the CU system. Staff achieving 20, 25, 30, 35 and 40 years of service are given gift certificates and pins, and are invited to the event. Staff who have retired within calendar year 2013 with 20-plus years of service are also invited to come and take one last round of applause for a career worth celebrating.
See the full list of honorees for calendar year 2013.
Pictures that were taken at the event will be sent to the recipients and some will soon be posted on the CU-Boulder Staff Council website.
You need not be a member of Staff Council to serve on any of our many committees. For more information or to contact us, visit www.colorado.edu/staffcouncil
Submitted by Boulder Campus Staff Council