STORY
Boulder Campus Staff Council celebrates 50 years
Past members reunited with current council at April event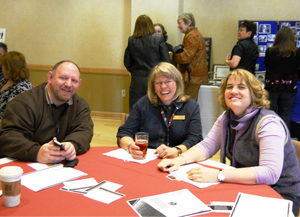 The Boulder Campus Staff Council hosted a reunion of past and current members on April 18 to celebrate 50 years of service.
One attendee, Margaret Kneebone, has the distinction of having the earliest service date. She started at CU in 1969 and began serving on the council a few years after that. She served on council one elected year and 26 additional years in a non-elected support role. Later, she was honored as an honorary lifetime member of staff council.
What began as a celebration evolved into an educational session where current Staff Council members could learn from the experiences of our predecessors. In addition to Ms. Kneebone, 27 other past members attended the reunion, where they shared numerous and inspiring experiences and memories. Some recounted their memories of rallies held to expand staff rights while others talked about Staff Council's role in educating staff on how to contact legislators and advocate for themselves. Everyone reminisced about the pride they felt regarding the accomplishments during their time serving staff.
What type of person volunteers to serve on Staff Council? This past year, Boulder Campus Staff Council officers were invited to participate in a research project regarding shared governance. As it turns out, many different types of employees chose to serve. The research showed that no defined length of service, type of occupation, or gender predetermines a council member. Rather, the defining quality is a desire to make a difference on the campus via researching and contributing ideas that can improve work life and streamline work processes. Staff Council members all have different backgrounds, experiences and talents. What brings them together is the common goal to use these talents to ensure that a place everyone loves continues to grow and evolve; and that staff positions, also continue to grow and evolve.
Was it worth adding the role of council member on top of regular work duties? The 28 past council members said "yes" over and over again as they shared their experiences and the bonds that they formed with their fellow members. As current members listened to the experiences, it felt like a family reunion where the older generations told of the good 'ol days, with a slight hint of hyperbole to get the next generation to wish they had been there. Staff Council is currently developing a pamphlet that recaps a timeline of the first 50 years' accomplishments and hopes to have this ready for issue in the fall.
Highlights from the University of Colorado Staff Council's First decade: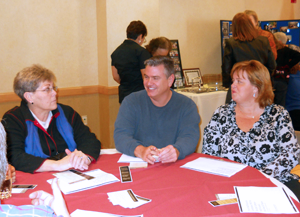 Staff Advisory Council's (SAC) only statutory authority was to exist as an advocacy group for staff. For it to change anything, it needed to influence administration regarding the issue being discussed.  Some early accomplishments involved updating the personnel manual, reviewing benefits within an overall budget and recommending changes based upon staff surveys, the researching of compensation within comparable universities and advocating for increases to both administration and the legislature, joining the CU Presidential Search Committees, serving as delegates within campus committees and thereby further expanding the voice of staff, and representing staff at Board of Regent meetings. SAC's advocacy added another voice along with the Student and Faculty Councils which were already in place. Staff were a critical and until this time overlooked voice.
In 1962, the Staff Advisory Council (SAC) was created and authorized by the Board of Regents to represent the staff of the University of Colorado's Boulder Campus. The primary purpose was to improve productivity by alleviating the frustrations due to cumbersome bureaucracy, gathering ideas for streamlining processes, eliminating inefficiencies, and being the conduit for improved communication between the staff and administration, therefore improving morale by allowing staff to have a voice within administration. The secondary purpose was to review the personnel manual and to recommend changes to the Personnel Department regarding general policies and benefits offered by CU.
SAC stabilized through the '60s, transitioning from the founders to newly elected members, updating and enforcing bylaws on its members in order to remain a strong advocacy group on campus.  The other campuses formed similar staff councils but ran their resolutions through the Boulder SAC until the Board of Regents formed the CU System Council in 1972.  At that time, CU Denver, Medical Center and UCCS requested that their staff councils become autonomous from the Boulder Campus SAC. The campus staff councils formed a committee to recommend how all this would work and the result is the current systemwide organization. Each campus council plus the system council elects three representatives to the University of Colorado Staff Council (UCSC), thereby creating a 15 member council that reports to the Board of Regents and works with the University System's HR Department.
How does University of Colorado Boulder Campus Staff Council represent staff?
By always serving as a viable communication conduit between staff and administration.  BSC surveys provide representatives with valuable insights that are shared within campus ad hoc issue committees, Chancellor's Executive Cabinet, Statewide Liaison Council, etc.  Because of the increased speed of business, there is now an increased need for quick, but informed decision-making by administration.  Many times throughout the year, BCSC reps who are serving as staff delegates on committees are asked to provide a voice on how staff would react to a campus committee decision.
By staying informed on shared governance issues impacting the campus.  Being informed takes research and training. Speakers are invited to monthly meetings as needed to keep the council up to speed.  Council members are encouraged to broaden their perspective to the campus and CU System level while representing their geographic area on campus.
By maintaining campus morale by hosting annual staff appreciation events such as the Fall Welcome, Winter Breakfast, Spring Luncheon, and Years of Service.
By hosting or lending support to events that promote the personal and professional development of staff such as the Bullying in the Workplace Workshops, Diversity Events, Women in Leadership Events, Healthy Workplace Fairs, etc.
By advocacy for issues such as supporting University Benefits Advisory Board (UBAB) in being maintained as an organization when it was thought by administration to no longer be needed, lobbying to improve the tuition benefit, stressing the importance of supervisor training and review to make sure evaluations are consistent with CU goals, and advocating to allow UCB employees to purchase equipment at auctions, etc.
By writing articles to keep staff informed of what Staff Council is working on to support them and also articles to recognize the accomplishments of our great staff.
You do not need to be elected to the Staff Council to serve on our committees: Please check out our website if you are interested in our work.  www.colorado.edu/staffcouncil or send an email to scouncil@colorado.edu.
Submitted by Boulder Campus Staff Council