STORY
Book Arts in Collaboration presentation, exhibit at Norlin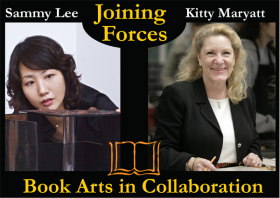 Most artistic endeavors are solitary pursuits. Kitty Maryatt and Sammy Lee create opportunities to collaborate in order to produce artists' books that are reflective of multiple perspectives. With "Joining Forces: Book Arts in Collaboration," you can hear their stories and see examples of their work at 7 tonight in the Norlin Library fifth floor Center for British and Irish Studies. The event is free and open to the public.
Maryatt will describe how she works with her students at the Scripps College Press (Claremont, California) to create limited edition letterpress books each semester. She also will show how her own work influences – and has been influenced by – her projects at the college.
Sammy Seung-min Lee of Studio SML | k, Denver, works hand-in-hand with South Korean artists to create sculptural book works that reflect their philosophies and artistic processes as well as her own. She will talk about her synergetic experiences in partnering with other artists while respecting and preserving creative boundaries.
An open house in the Special Collections Rare Books Room from 1 p.m. to 7 p.m. today will feature examples of artists' books from the department's extensive collection.
Exhibits of Maryatt's and Lee's work are now on display in the Norlin Library until March 8 during regular Libraries hours as posted on the website. "Kitty Maryatt and Limited Editions From the Scripps College Press" is in the Norlin east lobby and "Artists' Books by Sammy Seung-min Lee of Studio SML | k" is in the Norlin west lobby.
The event and exhibition is sponsored by University Libraries ScriptaLab, Rocky Mountain Chapter of the Guild of Book Workers, Book Arts League, Friends of the Libraries, and Archives and Special Collections. http://ucblibraries/news/JoiningForcesEvent.pdf