STORY
Board of Regents to welcome Ganahl, Kroll; Sharkey re-elected
Republicans retain 5-4 advantage
Voters across the state on Tuesday chose a new at-large member of the University of Colorado Board of Regents, Heidi Ganahl, who will join District 1's Jack Kroll and District 4's Sue Sharkey, an incumbent, in being sworn in early next year.
Ganahl will take over the seat being vacated by fellow Republican Steve Bosley, who is term limited. Also term limited and departing the board is Democrat Michael Carrigan, who is being succeeded by Kroll, also a Democrat. With the newly elected regents, the party split on the nine-member board will remain a 5-4 advantage for the Republicans.
Sharkey, a Castle Rock Republican, won her second six-year term on the board by receiving 219,303 votes, or 65 percent; Bob Owens, a Democratic challenger from Douglas County, received 117,911 votes, or 35 percent.
(Note: Vote totals are those provided as of noon Wednesday at the Secretary of State's election website.)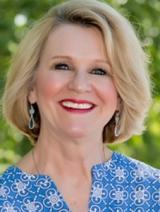 "I never take anything for granted. I felt strongly I would win this, but there's always that little voice saying, 'Maybe not,'" Sharkey said on Wednesday. "I think serving in any elected office and serving the people of your state is very humbling. I feel very humbled and grateful."
Sharkey said she will continue to push for political diversity and intellectual diversity at CU. She also wants to work to further advance CU's precollegiate program, specifically into eastern Colorado's high schools and junior high schools.
"I want to work on expanding precollegiate into an even bigger program than what it already is," Sharkey said. "Diversity is a topic we talk about quite a bit at CU, and it's critically important that all people are served by higher education. Precollegiate is certainly a way to work on bringing in a more diverse population of students."
Sharkey called her first term on the board "a terrific opportunity, I feel, to make a difference for the university and the constituents I serve. I'm excited that I get to do that for another six years."
Like the CU Buffs football team in Boulder, CU is on the rise, Sharkey said.
"There are exciting things happening on all four of our campuses," she said. "We can look at every single one for a great story to tell. I want to keep telling that great story and I believe I will."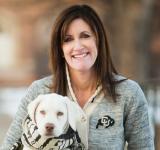 For the statewide at-large seat, Ganahl, a Republican from Superior, garnered 1.15 million votes, or 52.5 percent, while Alice Madden, a Democrat from Louisville, received 1.04 million votes, or 47.5 percent.
"I'm very excited and very tired," Ganahl said Wednesday. "The campaign has been a lot more intense than I planned for, but also so much fun. I learned so much about CU and what a big part of our community it is."
Ganahl, an entrepreneur who founded pet-care franchise Camp Bow Wow, said her first priority as regent is building relationships and working to gain a deeper understanding of the university and how it operates. "I want to sit back and listen – not come in like a bull in a china shop."
Keeping the cost of attendance down will be a focus, Ganahl said. "I want to attack the funding issue."
"I'm also passionate about building relationships with the business community, further establishing public-private partnerships, which CU does now," she said. "I'd like to see those partnerships help our students get great jobs. By connecting with the business community, hopefully we can get them hiring more of our students."
Ganahl also will remain involved in combating sexual assault on campuses, which is an emphasis of her nonprofit, Moms Fight Back.
"I'm just really thrilled and so excited to be working with the other regents," Ganahl said. "I love CU with all my heart. CU Boulder is my alma mater, so I couldn't be happier. I'm excited to get to know everybody better and see how I can help."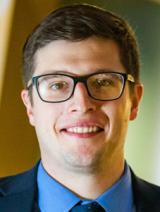 Kroll is an alumnus of CU Denver who works on staff at CU Boulder as an admissions officer. A Denver Democrat, he received 189,619 votes in District 1. No challenger was on the ballot, though Republican Jennifer Qualteri ran a write-in campaign.
"For me, the primary election was the moment. Once that fell into place, I had the real excitement. Since then, it's been a matter of waiting," Kroll said Wednesday. "I'm very excited to come onto the board. I've known many of the current regents for a number of years."
Kroll previously interacted with the board directly while in his role as chair of the Intercampus Student Forum.
"I've gotten to know CU over the last 10 years," Kroll said. "I'm at a point where I can have a good grasp of the system, of how things work. But I know I have a lot to learn still. Anyone in education must approach the work with that perspective."
Kroll said he's "humbled and honored" to be elected a regent.
"The university has a long-established history of success," he said. "I hope to be a good steward for the people of the 1st Congressional District and I plan to work with everybody to move the university forward.
"I need to get to know the other board members on a personal and professional level even more than I know them now. From there, hopefully we find common ground and can push forward to make CU a more accessible, more affordable place for everybody."
Kroll understands he'll be working as part of the minority party on the board, which he said "affects things in lot of ways. But at the end of the day, I've seen the board cross party lines on so many issues over the last 10 years, I don't think we're going to have much trouble getting things done."
Sharkey said there are times when political viewpoints "put a little wedge between us, but it doesn't last and we move on." She complimented Kroll and Ganahl, whom she called a friend, and said she looks forward to working with both.
From what Ganahl has gathered from board members, "95 percent of the things they discuss and tackle don't involve political differentiation. But the other 5 percent gets sticky," she said. "l want to see what I can do to collaborate, to learn more and help bridge any gap. I think the whole country is looking at doing that right now – not just CU."
The three will be sworn in as board members in January.