STORY
Board of Regents names presidential search committee, announces search firm
Committee to receive charge in December and begin actively seeking candidates in January.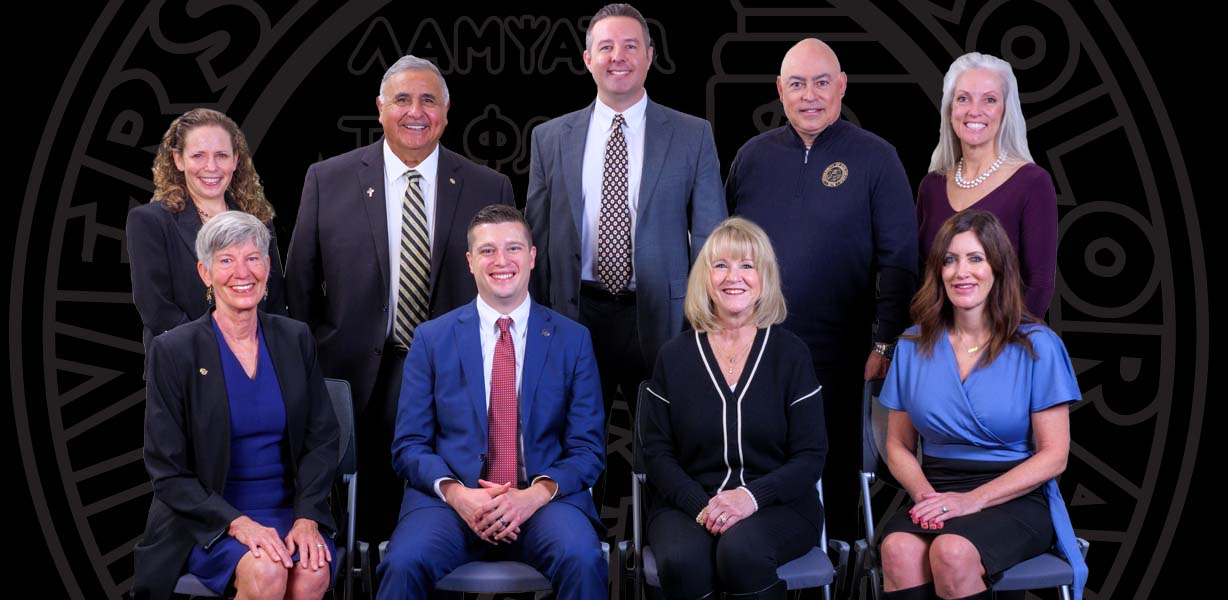 The University of Colorado Board of Regents took significant steps on Thursday to advance the search for CU's next president, naming members of the search committee and announcing a national search firm.
The regents met for one hour on Thursday and voted to approve 16 members of the presidential search committee. The committee members were chosen from a pool of 110 diverse nominees that included faculty, staff, students, alumni, donors and community members from across the state.
The regents also voted to name Regent Sue Sharkey vice chair of the search committee. She joins Regent Lesley Smith, who the regents voted as chair of the committee in September.
Additionally, the regents announced on Thursday they have selected Storbeck Search, an executive search firm based in Media, Pa., to assist with the search process.
"Today's actions move us into the next phase of the presidential search and position the university for a successful search," said Regent Smith. "The board is committed to creating an inclusive process that will attract the best talent and deliver the next president who will lead our university forward. We are ready and eager to get to work."
The regents will next meet on Dec. 8, when they are expected to finalize the position description and the search committee's charge. The search committee will then begin meeting regularly in January with Storbeck Search to begin the active search.
The committee's composition is guided by Regent Policy 3-C. The members are as follows:
Faculty representatives: Emily Yeh (CU Boulder); Cindy O'Bryant (CU Anschutz); Maryam Darbeheshti (CU Denver); Mary Coussons-Read (UCCS)
Dean representative: Paul Teske (CU Denver)
Staff representatives: Jasimine Evans (CU Boulder); Darren Chavez (CU Boulder)
Student representatives: Christopher Hilton, undergraduate (CU Denver); William Mundo, graduate (CU Denver and CU Anschutz)
Alumni representatives: David Foster; Velveta Golightly-Howell
Community representatives: Javier Soto; La Titia Taylor; Sara Blackhurst; Nadine Bridges
CU Foundation Board of Directors representative: Nan Joesten
Storbeck Search was chosen from a competitive process that attracted more than a dozen national firms. The firm is led by Shelly Weiss Storbeck, who has conducted more than 500 searches for public and private universities, liberal arts colleges, independent schools and nonprofit organizations during her career.
Thursday's actions followed a months-long outreach effort by the regents to gather input and perspectives from a range of internal and external stakeholders on what they would like to see in CU's next president.
The regents have met with more than 40 groups to gather input on the search. This includes shared governance groups across the system, including faculty assemblies, staff councils and student governments. It also includes community leaders and stakeholder groups from across Colorado, including underrepresented minority groups, members of the Southern Ute Indian Tribe, state lawmakers and the business community. Cortez, Durango, Fort Morgan, Pueblo and Sterling are among the locations regents have visited so far.
"The board has spent many hours over the past few months listening to our stakeholders from across Colorado," said Board Chair Jack Kroll. "All of us share a commitment to finding the best president for the University of Colorado. Ultimately, when the board makes its decision, it will be greatly influenced by the input we have received."
Regents encouraged stakeholders who would like to share their thoughts and ask questions to contact individual regents or fill out the form on the Presidential Search website.