STORY
Board of Regents committee to hear proposal for new parking garage near Folsom Field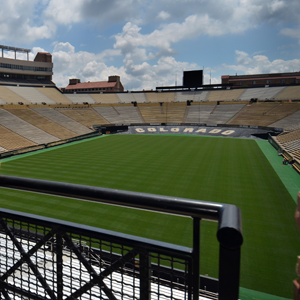 CU-Boulder campus administration will soon propose the construction of a 570- to 600-space garage to be located under the new Athletics indoor practice facility near Folsom Field.
Administrators will first present the proposal to the Board of Regents' Capital Construction Subcommittee on June 5. If approved, it's expected the full board will vote on the project in late June.
Like other parking facilities, the garage would provide daily access to general campus constituents, including faculty, staff, students and campus visitors. The additional facility is planned to address parking needs of the campus as well as athletics, but is not part of the athletics facilities upgrade project. It would be financed through parking revenues.
The parking garage proposal is still in its early stages, but would cost between $20 million and $25 million. It will help replace approximately 300 spaces being lost due to construction projects. Coordination of the campus Master Plan with the athletics facilities upgrade project presented an opportunity to reduce costs for a parking facility by building it in combination with a current project.