STORY
Benson: 10-year performance indicators show strength of CU
President talks achievement with Faculty Senate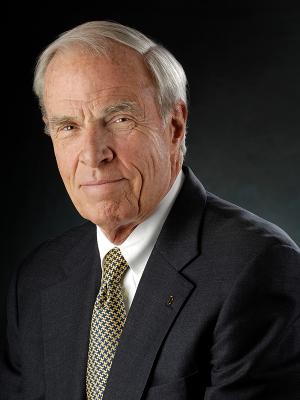 "Efficiency," "reputation" and "culture" are common keywords that University of Colorado President Bruce Benson uses when speaking to the CU community. At the Faculty Senate's Nov. 30 meeting at Denver's Warwick Hotel, he offered numbers to illustrate growth in those areas over the past decade.
With the 10th anniversary of his CU presidency just months away, Benson presented several key performance indicators that compare today to the 2007-08 fiscal year. Among them:
Enrollment: 65,375 (with another 7,000 taking courses for credit), up from 54,174
Degrees awarded annually: 15,693, up from 12,939
Online enrollments: 54,911, up from 30,587 in 2010 (most recent data available)
Research funding: $1.03 billion, up from $660 million
Annual fundraising: $386.3 million, up from $135 million
Endowment: $1.2 billion, up from $640 million
Annual budget: $4.1 billion, up from $2.2 billion
Bond rating: Aa1, up from Aa3
That growth has come, Benson noted, at a time when state funding of $194 million is down from a decade ago, when it was $227 million; the low point came in 2011-12, with $144 million.
"We just play the cards we're dealt and keep moving," Benson said. "I think people understand how underfunded we are."
While state funding remains a challenge, state lawmakers over the past decade have partnered with CU in helping to pass 16 bills that allow for greater operational efficiency – such as procurement cards, the capital construction approval process, negotiating purchasing contracts and more.
Also furthering efficiency: winnowing the number of university policies to 88 from 210 a decade ago. By self-insuring, begun in 2011, CU saves between $3 million and $4 million annually, while an insurance audit instituted in 2012 saves $2.8 million annually.
Culturally, CU has made strides in diversity over the past 10 years. Minority student enrollment is 29 percent, up from 18 percent; minority tenure and tenure-track faculty is 17 percent, up from 14 percent.
The launch of the Visiting Scholars in Conservative Thought and Policy at CU Boulder has boosted diversity of thought, Benson said.
Such improvements across the four campuses contribute to positive evolution of CU's reputation, he said.
"Right now, we poll at 75 percent positive, which is up 8 percent since the last poll," Benson said of impressions of CU among Coloradans. "I would love to get that up to 80 percent. But overall, people are pleased with this university. Keep up your great work."
In other business at last week's Faculty Senate/Faculty Council meeting:
The governance group heard an update from Anna Hasenfratz, chair of the Privilege and Tenure Committee. During the current academic year, three grievances have been filed, one closed grievance remains in mediation, four potential grievances remain and there is one potential dismissal for cause action. One appeal was filed and three faculty inquiries were made. The number of cases is higher than in recent years, Hasenfratz said, and means the workload is too much for the current committee membership. She encouraged the campus Faculty Assemblies to recruit faculty members to the committee.
Faculty heard an update on the review of Article 5 and Policy 5, which is currently being examined as part of the systemwide review of Regents Laws and Policies. Michael Lightner, vice president for academic affairs, said many valuable comments from faculty had been provided. The goal remains to have a first draft of specific proposed revisions posted on the public website by Friday for further review and comment.