STORY
Basketball teams to challenge Western State in Downtown Classic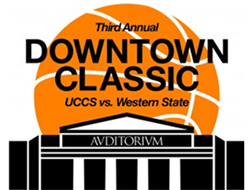 The UCCS basketball teams will return to the historic Colorado Springs City Auditorium for the Third Annual Downtown Classic on Friday.
Both UCCS men's and women's basketball teams will face Western State Colorado University in a Rocky Mountain Athletic Conference doubleheader.
The women's game will begin at 5:30 p.m. with the men's game to follow at 7:30 p.m. Advance tickets are available at http://www.UCCSTickets.com. Game day sales will begin at 4:30 p.m. at the auditorium.
The UCCS men's team is ranked No. 3 in the latest NABC Division II National Poll and is 13-0 for the first time in program history. The Mountain Lions are in the top 10 of NCAA statistics in scoring, field goals made, free throws made and steals. The UCCS women's team is 11-2 and is second in the RMAC standings with a 6-1 record. The Mountain Lions have the recent national player of the week in Abby Kirchoff, who broke the UCCS single-game scoring record last month.
The Mountain Lion games will continue an ongoing partnership between UCCS and the City Auditorium that started two years ago. UCCS used a temporary setup for the Inaugural Downtown Classic in 2013, and then put in a new floor with basketball lines, purchased new scoreboards and a new hoop system for last year's game that brought the facility up to NCAA and National Federal of State High School Associations standards.
The city of Colorado Springs made improvements to the curbing on the north and east sides of the facility in 2013 and resurfaced the west access corridor in 2014. The city is in the early stages of bringing the restroom area to code and accepted design proposals for the project this fall.
The Colorado Springs City Auditorium opened in 1922 after a general election vote in 1921 approved a $390,000 bond measure. The Strategic Plan for the Revitalization of the City Auditorium has identified the most needed upgrades to the facility to enhance the future use of the building and establish it as a viable public events venue in downtown Colorado Springs.