STORY
Assistive Technology Partners ready to help aging population
Although Assistive Technology Partners (ATP)  is a program of both CU Anschutz (the School of Medicine) and CU Denver (the College of Engineering and Applied Science), it is located on neither campus. In a low-slung building at East 18th Avenue and Pearl Street in Denver, 15 faculty, staff and students – including engineers, clinicians, therapists and educators – transform lives and society every day.
They are led by the boundless energy of Executive Director Cathy Bodine, PhD, CCC-SLP, who has been with the organization for 18 years and can remember when it operated with a single grant and four people.
"I've been working in the field of assistive technology since 1985, before the Internet, before cell phones, before hard drives," Bodine said. "When I got started there were 100 devices on the market for people with disabilities. Now, they are ubiquitous."
A Toy for Jadyn
When Chelsea Arenas tried to find toys for her 6-year-old son, she always came up empty-handed—until the faculty and staff at Assistive Technology Partners (ATP) decided to take on the challenge of creating a toy for a child like Jadyn.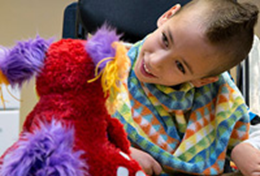 "With most toys, you have to hit a button, flip a switch, squeeze, push or pull," Arenas explained. "Since Jadyn can't do any of those things, there was no toy we could find that he could play with by himself."
Assistive technology is anything that helps a person with disabilities function more effectively. It can be something that anyone could buy at the store, or it can include solutions designed and built for one individual person. It can be as simple as a zipper pull or as complex as a communication device for someone who cannot speak. ATP helps individuals with cognitive, sensory or physical disabilities by providing a variety of services:
Clinical care
Outreach and information
Research and engineering
Product testing
Workplace adaptation
Education
Information about accessibility
The organization has served thousands of individuals with complex disabilities and has connected with millions of others through outreach. It has brought $47 million in grants and funding to the university and the state of Colorado. But Bodine will argue that the future of assistive technology is even more exciting because of one demographic: baby boomers.
'Aging into disabilities'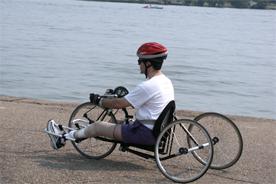 Between 2010 and 2020, Colorado's population aged 65 and older is expected to increase by 61 percent, from about 550,000 to 892,000. About one-third of people over age 64 have a disability; that percentage is expected to rise as seniors age. Some experts call this increasing number of seniors a "silver tsunami." Bodine calls it "a perfect storm" of supply and demand for assistive technology.
"This baby boomer population will want to work longer, remain in their own homes longer and stay engaged in their local community activities longer," Bodine said. "At the same time they will be aging into various disabilities."
Bodine points out that most people use disability-related technology without even realizing it—including smartphones with volume enhancements and visual cues, computer screens with format-sizing options and camera phones to aid record-keeping and memory. In the past, devices such as those would have been expensive and only  available by prescription.
But even though aging seniors may have more options, not all devices are ideal for seniors—especially those that are too miniaturized for arthritic hands to manipulate easily or so loaded with options even tech-savvy boomers can't figure them out. ATP sees huge potential to aid older members of society who require ways of maintaining sight, hearing, mobility and cognition.
"The demand for assistive technology will explode," Bodine said.
'Touching thousands of people'
Bodine also sees a need for assistive technology to serve veterans returning from combat zones, many of whom have post-traumatic stress disorder or multiple injuries. ATP has trained more than 1,200 clinicians on how to use assistive technology with returning veterans who have hearing and vision loss, brain injuries and lost limbs.
"We're incredibly good with complex injuries, from low-tech assistive technology to high tech," Bodine said.
Jim Sandstrum, MA, CCC-SLP, coordinator of business services, spearheads consulting and testing for companies trying to make their products more accessible. ATP works on websites to make sure they are accessible, including Connect for Health Colorado, the state's health insurance marketplace. ATP has also tested a set-top box for Time Warner Cable to make sure it's accessible for visually impaired individuals, consulted with educational testing companies to ensure that high-stakes exams— such as the GED—are accessible to students who have disabilities, and set up accessible computers in libraries across the state.
"If I'm providing clinical care to individuals, I might be able to help 30 or 40 people a year," Sandstrum said. "But when I work with businesses and their products, I'm touching thousands of people."
Bodine tells the story of a 12-month-old who came to ATP with a diagnosis of severe cerebral palsy. He was non-verbal, non-ambulatory and couldn't use his hands. Today, that baby is in his mid-20s, a college graduate with a career, and living independently with the help of an aide. When undergraduate and graduate students find their way to work and study at ATP, Bodine sees potential for more success stories in the years to come.
"We want to grow the next generation of professionals," she said. "They will be able to solve accessibility problems even better than we have done."