STORY
Anschutz Medical Campus to continue work on master plan, strategic initiatives in 2013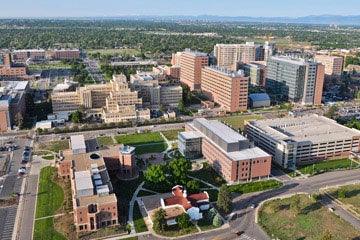 It's been said that "planning is everything." At the University of Colorado Anschutz Medical Campus, that couldn't be more true, as plans abound for the campus as a whole as well as the schools and colleges.
Much progress was made in 2012 on a new Anschutz Medical Campus Master Plan, and the plan is targeted for completion this spring.
While uncertainty persists with health care policy and the federal budget, Vice President for Health Affairs and Vice Chancellor of the Anschutz Medical Campus Lilly Marks said the campus will meet the challenges with trademark innovation, flexibility and collaborative spirit. She outlined the challenges and opportunities in her State of the University address.
"All of this sets the stage for why we need to engage in a strategic look at our research enterprise and our research future," Marks said.
It's been a decade since the Anschutz Medical Campus underwent a master plan, Marks said, "so this is our opportunity to look into the future and to envision how should we design this campus for the next decade."
Chief Planning Officer Michael Del Giudice has guided the Anschutz Medical Campus Master Plan, gathering "big picture" ideas from visioning forums open to the campus community. Key ideas so far include:
A building connecting research and clinical enterprises.
Joint facilities collaboration with sitewide partners.
The plan revolves around seven components: community, identity, universal access, innovation, connectivity, engagement and stewardship.
Del Giudice said the campus currently has 8.2 million square feet of constructed space and 17,000 parking spaces. "If we grow to the full extent of this plan, we'll be at 18 million square feet and 30,000 parking spaces. Also, there will be about 44,000 people working on the campus."
In spring 2013, work will begin on a light rail extension along Interstate 225 that will connect to Anschutz Medical Campus. The campus will begin making preparations this summer for the line, which is expected to open in summer 2016.
A key interchange serving the campus, I-225 and 17th Place, is tentatively scheduled to open Feb. 17. This spring, the new University of Colorado Hospital Inpatient Tower will open.
Marks said other opportunities are to explore new models of education and research, biotechnology innovation and enhanced philanthropy. Opportunities to meet operational challenges include the master plan process, undertaking a thorough review of biotech transfer infrastructure and building campus-specific infrastructure.
At the forefront of the campus's research, education for students and clinical outcomes are the individual schools and colleges. Following are some highlights of what's on tap in 2013:
The School of Medicine will continue a process of re-evaluating the structure of the school to prepare for the challenges of the coming decade. Task forces have been meeting on the topics of education, clinical care, research and community.
The medical school will continue to prepare for a new branch, for clinical training for third- and fourth-year students, in Colorado Springs. The initial group of students is expected to begin at the branch in August 2014.
Last year, the Colorado School of Public Health named David C. Goff Jr., M.D., Ph.D., as dean. In 2013, the school will begin offering new maternal and child health and health services research program, both aimed at addressing specific health indicators and outcomes lacking in our state.
In August, Sarah Thompson, Ph.D., RN, FAAN, joined the College of Nursing  as dean and has been meeting individually with its faculty, staff, students, alumni, donors and professional stakeholders. In January, these stakeholders will gather for a strategic planning process. Also this year, Thompson will be meeting with various groups of alumni in Colorado and around the country.
The past year saw the 100th anniversary and new building dedication of the Skaggs School of Pharmacy and Pharmaceutical Sciences. The school in 2013 will undertake a strategic planning process, continue improvement and advancement of current curriculum and build upon the success of its online PharmD program (the second largest of its kind in the nation) and expand to an international audience.