STORY
Anschutz Block Party a success despite brisk weather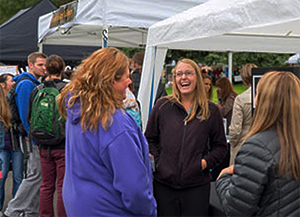 An occasional "brrrr" rose up between golf swings, volleyball bumps and bites of burrito, but the hearty souls at the Anschutz Medical Campus and surrounding community still turned out in large numbers for the festive Anschutz Block Party on Friday.
Stacey Bagby, a professional research assistant in veterinary technology, wore a warm jacket, hat and gloves as the second annual event kicked off amid brisk conditions. "Last year it was nice out, and this year it's kind of cold, but it's still good," Bagby said.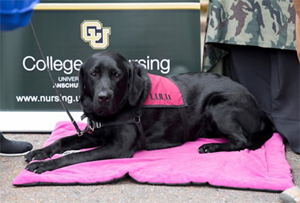 She strolled Bonfils Circle in front of Building 500 with her husband, Brad, and their dog, Faraday. Besides being a nice lunch break, Bagby said, the event is always eye-opening. "I end up learning about something that I didn't know was available on campus," she said. "And it's nice just to get away from the lab."
This year's Block Party featured 66 exhibitor booths—double the number from last year's inaugural event—and they represented hospitals, CU Anschutz schools and colleges, health-care providers and city of Aurora businesses. As usual, food selections were vast— four restaurant tents and eight food trucks dotted Bonfils Circle.
"It's awesome!" said Amber Ather, a first-year student in the School of Dental Medicine. Then with a big grin, he added, "If only the food was free."
He loved the free live music, especially the alternative rock of The Belle Jar. The band includes multi-instrumentalist Courtney Wilson, a student in the neuroscience doctoral program, and guitarist Andy Rex, who used to work in pathology in the School of Medicine. Other entertainers were the Mudra Indian Dance Studio, The Epilogues and the RipStoke Mountain Bike Stunt Team.
Lilly Marks, vice president of health affairs at the University of Colorado and executive vice chancellor for the Anschutz Medical Campus, strolled Bonfils Circle along with Don Elliman, chancellor of the University of Colorado Denver | Anschutz Medical Campus. They stopped and chatted with many of the exhibitors.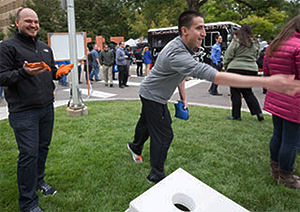 "The most striking thing to me is how much we learn about ourselves and our own campus," Marks said of the Block Party. "The sweep of what we do here on this campus is so incredible."
She said the Block Party is also an excellent opportunity for the Anschutz Medical Campus community to learn about the resources available in the surrounding Aurora community and vice versa.
While waiting for a barbecue sandwich at a food truck, David Goff, M.D., Ph.D., dean of the Colorado School of Public Health, enjoyed watching the dancing of the Mudra Indian Dance Studio. Several Block Party-goers joined in with the dance troupe.
Goff said it was nice to see folks interacting during the Block Party. "I think it builds a sense of community," he said. "It gets faculty, students and staff to come out and intermingle and celebrate all the wonderful things we do on this campus as part of our mission."
Goff enjoyed socializing with colleagues at his school's information booth as well as seeing what other information booths had to offer. "People are really enjoying themselves," he said. "This is a lot of good food and good fun."