STORY
Accessing Higher Ground Conference: CU community receives 5% discount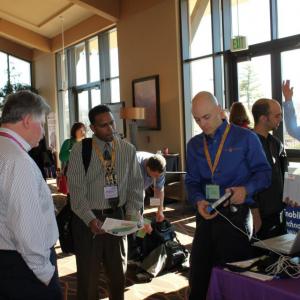 The 2022 Accessing Higher Ground: Accessible, Media, Web and Technology Conference is set for Nov. 14-18 at the Hilton Denver City Center.
The conference also will offer a virtual option.
Accessing Higher Ground focuses on the implementation and benefits of accessible media and information resources, including websites, PDFs and other documents. Accessible curricula and legal issues around accessibility and higher education also are key elements of the conference.
Members of the CU community receive a 5% discount on registration fees (must use CU email address). Because CU Boulder is a member of the Association on Higher Education and Disability, the campus community receives a 10% discount.
Keynote speaker is Elsa Sjunneson, a DeafBlind author and editor living in Seattle. Her fiction and nonfiction writing has been praised as "eloquence and activism in lockstep" and has been published in dozens of venues around the world. She has been a Hugo Award finalist seven times, and has won Hugo, Aurora and BFA awards for her editorial work. Watch a PBS video about her here.
Highlights from this year's agenda:
Pre-Conference
Main Conference
View the complete agenda or register now.
For more information, contact Howard Kramer, 720-351-8668 or hkramer@ahead.org.