STORY
ABC's 'Extreme Weight Loss' comes to Anschutz Health and Wellness Center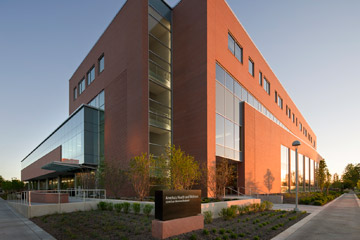 The University of Colorado's Anschutz Health and Wellness Center (AHWC) has been selected by ABC-TV and producer Eyeworks USA as the medical oversight, weight loss and nutrition services partner for the fourth season of the network's hit series "Extreme Weight Loss." Production of the show's fourth season is underway.
"Extreme Weight Loss" is a noncompetitive show about weight loss that documents the unprecedented, 365-day journeys of courageous, "super obese" people. Working alongside transformation specialist and trainer Chris Powell, these individuals set out to safely lose up to half their body weight, ultimately revealing an amazing metamorphosis.
In the series' fourth season, while participants continue to work with Chris, they also will spend the first 90 days of their weight loss journeys at the Anschutz Health and Wellness Center, under the care of medical director Holly Wyatt, M.D., and associate professor of medicine at the University of Colorado. AHWC will be their home for nutritional education, guidance and techniques, personal training and fitness classes to ensure they attain their weight loss goals.
James O. Hill, Ph.D., is Anschutz Health and Wellness Center's executive director, and the Anschutz professor of pediatrics, medicine, physiology and biophysics at the University of Colorado School of Medicine. He and Wyatt are internationally known experts on obesity, weight loss and weight management.
"The team at Anschutz Health and Wellness Center fully supports the 'Extreme Weight Loss' participants in their weight loss quests, and will draw upon our research and practical expertise to ensure they reach their goals and maintain them," Hill said. "Our evidence-based weight loss and maintenance strategies are proven and effective focusing on what works for each individual."
Added "Extreme Weight Loss" Executive Producer J.D. Roth, "Anschutz Health and Wellness Center has one of the best weight management programs in the world, and promotes and advances a comprehensive approach to overall wellness, which is an equally important part of the process. This, coupled with the fact that Colorado is one of the healthiest states in the country, made AHWC an ideal choice for our show as we head into production on season four."
As medical director of AHWC, Wyatt is responsible for leading the team of registered dietitians and fitness experts who assist with the weight loss of the show's participants.
"Supporting people who are committed to significant weight loss is my passion and the focus of my life and career," Wyatt said. "I admire the courage and desire it takes to make this transformation. It's hard to lose weight, even harder to keep it off over time and I look forward to being involved in every step of their journey."
Wyatt's team supports the show's host, trainer and transformation specialist, Chris Powell, who guides the show's participants through their yearlong journeys.
The "Extreme Weight Loss" participants underwent extensive medical testing at AHWC, including a physical examination, blood work, metabolism evaluation, and body mass and body composition tests. Each was given a personalized wellness report, created by experts at the center, providing insight into physical and metabolic fitness, diet and nutrition, sleep, stress and quality of life.