STORY
2023 vendor fair is your Open Enrollment book club
Join webinars April 24-28; make health plan updates by May 5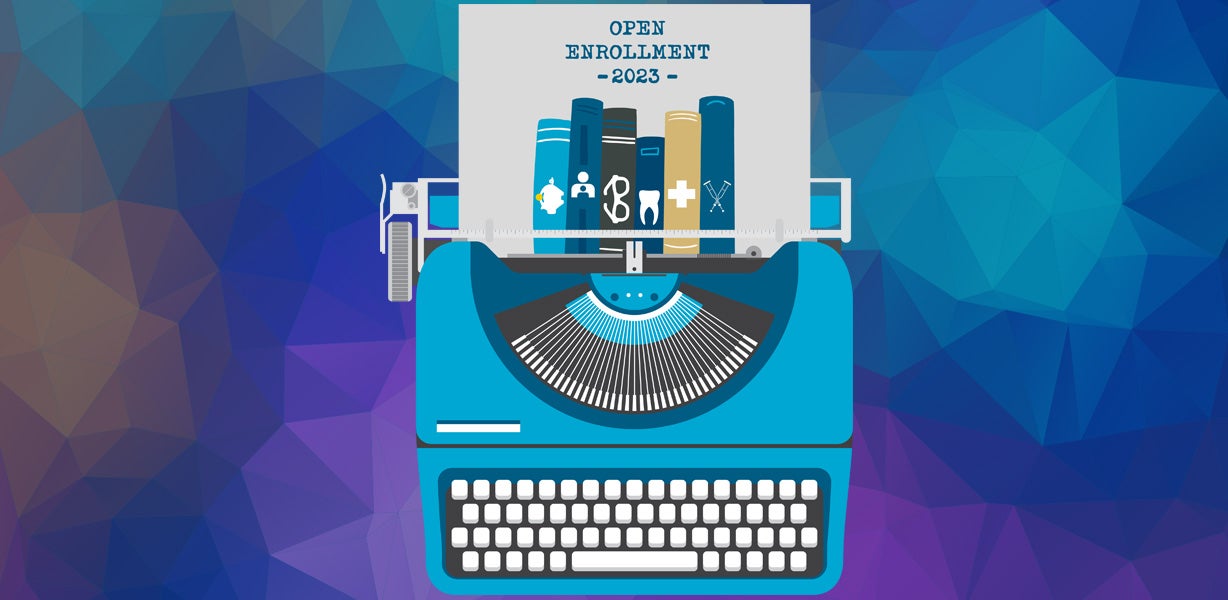 Your Open Enrollment story has begun, and now is the best time to review your benefits, understand what's changing and ensure they will continue to be the right options for you.
Reading into your benefits features can be overwhelming, but there are tools and resources on the Open Enrollment Sessions and Fairs website to take the mystery out of your decision.
Open Enrollment began with the enrollment portal becoming available on April 17 and will last through 5 p.m. MDT May 5.
If your life circumstances have changed, this is a good time to review your health plan needs and compare them to all your CU plan options. The Open Enrollment sessions and vendor resources are your study guide to understand the details of each plan and make the best decision for your healthy ever after.
"Having the opportunity to review your plan options ensures that your choices are still in line with your life goals," said Deborah Lowe, Employee Services outreach program manager. "The employee educational programming and resources will give you a valuable overview, letting you focus in on the things that are of interest to you."
Plan information is an open book
On-demand courses on the Open Enrollment Sessions and Fairs website provide a full walk-through of CU Health Plans and changes that have been made. The two courses are offered in both English and Spanish.
The Basics of CU Health Plans course helps you find the right health plan for your needs. The course assists by considering three variables: plan network, including covered providers and possible out-of-state coverage; cost to maintain the plan; and cost to access care. In addition to medical plans, this course highlights dental and vision plan options as well as pretax savings account plan options.
The Open Enrollment Overview on-demand course will give you a sneak peek at all the changes coming in the new plan year, which begins July 1.
"Understanding how a health plan supports both your health care needs and your financial goals makes a difference in the choices you make," Lowe said.
A variety of helpful resources await you
Webinars
Health insurance is a complex and confusing topic for many people, and it can be easy to get overwhelmed with all the moving parts and variables. The vendor fair webinars are a great platform to learn from the experts and ask questions regarding Open Enrollment and benefits plans.
During the second week of Open Enrollment, April 24-28, Employee Services will host multiple informational webinars hosted by representatives of our plan providers, including CVS Caremark, Anthem, Kaiser Permanente and Delta Dental. This is your best opportunity to learn more about each plan and have your questions answered.
CU Health Plans are expanding fertility coverage to provide additional treatments for families who require medical fertility assistance. WINFertility administers fertility treatment benefits for Anthem plan members, and OviaHealth is accessible to all health plan members, providing a suite of resources designed to aid families and parents in navigating conception, pregnancy, parenthood and menopause.
Learn all about what WINFertility and OviaHealth have to offer in their April 27 webinar.
In addition to the CU Health Plan presentations, TIAA is offering a workshop on April 27 highlighting the benefits of CU's mandatory 401(a) Plan and increasing savings through the voluntary 403(b) Plan.
Digital resources
Webinars are just one resource that can help those looking to review or change their plans. The Open Enrollment fair is a hub of digital resources — from videos to written guides — explaining plan options such as pharmacy, life insurance and mental health care.
Prizes
Anyone visiting the virtual sessions and fair can enter to win one of 42 prizes, including Yeti Tumblers, $25 Target gift cards, muscle percussion massagers and more.
More resources
Visit the Open Enrollment website to access all the resources you need to find the most advantageous plan for you. Act before Open Enrollment ends at 5 p.m. MDT May 5.
If the vendor fair information, on-demand courses and webinars don't provide the answers you're seeking, don't hesitate to contact our benefits professionals.

Reach an Employee Services benefits professional by email at benefits@cu.edu or call 303-860-4200, option 3.