STORY
2023 UIS Impact Report: Delivering Solutions Around the Clock
Learn more about the timely solutions empowering CU's mission
The 2022-23 UIS Impact Report highlights the past, present and future solutions provided by UIS and its partners to empower CU to adapt, connect and reach its goals.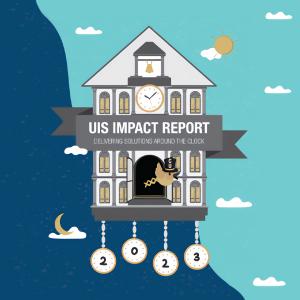 UIS regularly collaborates with the Office of Information Security, each campus's Office of Information Technology, the Controller's Office, Human Resources, Finance, Student Services, Procurement, Research and Grants, the Office of Advancement and many other departments from every CU campus to offer new solutions, efficiencies, savings or increased security.
Highlights of the report include:
Meet the UIS Customer Success Team and learn how they can help your team reach its goals.
Learn how CU manages security risks by increasing alignment across the university and fortifying its overall cybersecurity posture.
Understand how UIS prepared for and implemented the Data Center move with contributions from every campus, especially CU Anschutz.
Embrace increased equity and access through innovations to CU's portal screen reader and the emergency notification system.
Discover the past solutions keeping CU ticking, along with six collaborations saving CU time, money and resources.
Look to the future with UIS' top priorities for 2024 and how they're setting a foundation to continue advancing CU's strategic goals.
After reading the report, employees are encouraged to provide feedback and share your experience partnering with UIS. Respond by Dec. 15, when five participants will be selected at random to receive $50 cash.