STORY
2020 legislative session begins
Funding, mental health among issues lawmakers will address
As the 2020 state legislative session convened at the Capitol on Wednesday, CU's Government Relations team re-engaged with state legislators on ways to support higher education and advance CU's legislative priorities.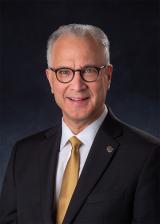 President Mark Kennedy, campus chancellors and the Government Relations team have spent the interim meeting with individual legislators and members of the executive branch to prepare for and advocate on key issues of importance to CU.
During the 120-day session, expected legislation proposals include mental health, funding for pre-K, early childhood and rural teacher shortages as well as interim committee bills that address access to higher education.
Key legislative focuses for CU include:
Funding for higher education
Supporting capital requests from the campuses
Supporting scholarships for minority students to pursue health care careers as well as expanding the Colorado Opportunity Scholarship Initiative fund
Teacher preparation endeavors for rural and early childhood education
Access to mental health care for students