STORY
1000 MORE scholarship initiative envisions moving lives in dream-fulfilling direction with more financial support
Maryam Rawesh said she wouldn't be a student at CU Denver, pursuing her dream of becoming a neurosurgeon, if not for a scholarship.
Lubna Mazin credits a "random scholarship that came in the mail" for setting her down a path at CU Denver where she's flourished in academics and leadership.
Ana Chauca-Diaz is on the cusp of becoming the first member of her family to earn a college degree, thanks to a scholarship from the Denver Scholarship Foundation (DSF).
Imagine how many more lives would pivot in a dream-fulfilling direction if financial support for CU Denver students grew exponentially. Envision how thousands more success stories would ripple through our community, our state and our nation.
That's the kind of big-picture thinking behind CU Denver's 1000 MORE scholarship initiative. Chancellor Don Elliman has identified scholarship support as the No. 1 fundraising priority for the campus. The university hopes to provide financial support for 1,000 more students every year—tripling the current level of private support for scholarships—by the year 2020.
Higher education access an 'enormous issue'
"I believe that access to higher education is an enormous issue for the state of Colorado, for our community, and I think we need to be working hard to provide more access than we're able to provide right now," Elliman said. "And, frankly, scholarships are the key."
Colorado has one of the largest education gaps in the nation between its minority and majority populations, the chancellor said. "For first-generation students, English-as-a-second-language students and students who just can't afford college but have the aptitude," he said, "it's really important that we find ways to get them here and help them succeed."
As state support for higher education has been shrinking, the need for financial support grows. More than 60 percent of CU Denver undergraduate students demonstrate a need for assistance.
A DSF scholarship meant that Mayra Gonzales, a senior majoring in sociology, could devote out-of-class time to her studies and goals. "I was able to divide my time between school and internships, so I gained experience in my field," she said.
Several scholarships made college affordable for CU Denver student Gerardo Ceballos, a senior double-major in international studies and ethnic studies. "I was able to not incur so much debt," he said. "It definitely means that I'm going to pursue grad school, and that will open more possibilities."
The goal behind 1000 MORE is to create possibilities for students who have academic ability, a strong work ethic and dreams—but limited financial means.
Both need-based and merit-based scholarships will be developed during the initiative—with an emphasis on need-based support for Colorado students—as well as support for international students, study abroad opportunities, transfer students and graduate students.
Out of a record 1,157 freshmen who enrolled at CU Denver last fall, a third of them are first-generation college students and a third are low-income, said Raul Cardenas, Ph.D., associate vice chancellor for Student Affairs.
Unfortunately, he noted, Colorado spends less than half today on higher education than it did 13 years ago. "It would be so tremendous if we can give students that additional resource and additional opportunity for success," Cardenas said.
To support its largest-ever scholarship initiative the university will work to significantly ramp up private donations. Endowment gifts will be key to ensuring the program's long-term viability.
Current students who have enjoyed financial support see nothing but benefits from the 1000 MORE initiative.
More scholarships mean even more diversity
"It definitely gives more students who are first-generation (college students) and first-generation immigrants, like myself, the opportunity to obtain an education," Ceballos said. "I think right now a lot of students don't know that there are these resources out there for them. An increase in scholarships will attract more students and add even more diversity to the campus."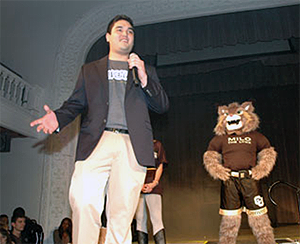 Several scholarships, including the Denver Bound Scholarship, made coming to CU Denver to pursue a civil engineering degree an easy choice for Ronson Fox (at left). Fox made the most of his time here, becoming SGA president and leading the drive to create a unique CU Denver identity, including the Milo the Lynx mascot.
"I've seen a huge transformation from five years ago, when I started here, to what the campus is now," Fox said. "With the new buildings and everything going on, it's like a complete 180. We're heading in the right direction."
Thanks to his CU Denver education, so is Fox. With graduation still seven weeks away, he has already lined up a civil engineering job back home in Hawaii. Fox, who won a scholarship that's for out-of-state students, said CU Denver is wise to increase scholarships to Colorado residents. If they can't find support to attend a university close to home, he said, they'll look out of state.
Elliman agrees. "Our main goal for scholarships ought to be need-based, and some merit-based, for Colorado kids," he said.
'Without a scholarship I wouldn't be at CU Denver'
Rawesh, a freshman from Westminster, said her full-ride Daniels Fund scholarship opened the door to higher education. "My mom passed away a couple years ago, so it's just my dad supporting three kids," she said. "Without the scholarship I wouldn't be at CU Denver."
She said scholarships help students emotionally as well.
"They give students the confidence that somebody actually wants to invest in them and believes that they can do it," said Rawesh, who is studying biology and psychology. "That's what the Daniels Fund did for me. They were willing to believe in me and invest in me, so it means a lot."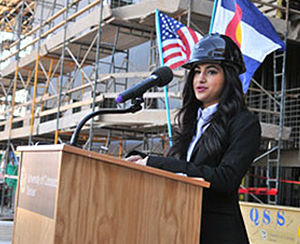 Mazin (at right), who is vice president of SGA and founding member of the CU Denver cheer and dance club, said she didn't even apply for the Urban Scholarship that arrived in the mailbox when she was a high school senior. "That really triggered something for me because it's like, 'Wow, they think I'm that special that I deserve a scholarship to their school,'" Mazin said. "I felt wanted."
CU Denver is making a strong statement that bright and ambitious students—whatever their financial circumstance—are wanted here. Elliman acknowledges that the 1000 MORE initiative is ambitious, but he likes its prospects.
"I think the need is recognized, and it's one of those kinds of campaigns where any amount donated is helpful," he said. "It would be great if we found somebody who wanted to put in millions of dollars in one shot, but in essence what we're trying to do is build our endowment up through alumni donations. It's about paying it forward."
To support the 1000 More campaign, click here.