STORY
'Power of Partnership' ad campaign promotes connections to community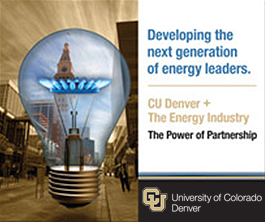 The University of Colorado Denver is moving forward with phase two of an advertising campaign featuring university "partnerships."
It's called "The Power of Partnership," and it highlights the unique, innovative and powerful partnerships that CU Denver nurtures with business, industry, education and government. After a successful launch last October, the ad campaign recently moved into its second phase. From now through the end of March, you'll see and hear about CU Denver's partnerships throughout the Mile High City.
We encourage you to tell others about the campaign. Share a link on your Facebook page to the campaign webpage, spread the campaign message via e-mail or point out the billboards and bus ads to friends as you pass by.
"'The 'Power of Partnership' campaign spotlights CU Denver's role as a key partner for business, industry, education and government, providing access to intellectual capital, research, innovative ideas and more," said Chancellor Jerry Wartgow. "We're celebrating the work of all of our CU Denver schools and colleges while concentrating our message for maximum exposure."
For complete information about "The Power of Partnership," including images and messages from the campaign's first phase, visit ucdenver.edu/PartnerNow.