SPOTLIGHT
Five questions for Terrance Boult
Passion for innovation feeds growth of unusual bachelor's programs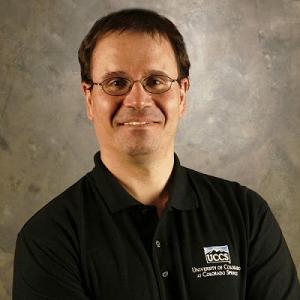 Terrance E. Boult defines innovation as the transformation of ideas into impact, and that is what he set out to do when he came to the University of Colorado Colorado Springs in 2003.
Boult, now El Pomar Endowed Chair of Innovation and Security and professor of computer science, previously was a department chair at Lehigh University in Pennsylvania, but he was not happy there.
"I was trying to make a lot of changes, but the university wasn't going where I wanted to be, and so I decided to leave," Boult said. "Years ago, I realized I wanted to make a difference – not a reputation."
He began a nationwide search to find an institution where he thought he could make an educational difference in terms of the direction he wanted to take.
"No one knew I wanted to do an innovation program, but I knew exactly what I wanted to do and I was looking for a school that I thought would let me do it. The El Pomar Professorship attracted my attention because it was not just about research or teaching. It was not just about publishing papers but actually making a difference in the community and world."
Boult developed a family of Bachelor of Innovation (BI) degrees that launched in 2007. Since then, 150 students have graduated with one of the degrees. Currently there are about 420 students in 19 different BI majors spanning four colleges. The BI program teaches about 1,200 students a year, as many of its courses also count toward the compass curriculum.
"We've been growing at about 30 percent per year," he said. "The BI is the only program of its kind in the world and we're looking to grow, so if there are any CU benefactors looking for something unique and exciting, the BI program is a good reason to give."
Boult also runs the Vision and Security Technology Lab (VAST lab) with research interests in surveillance, machine learning, biometrics and computer vision.
As an avid snowboarder and telemark skier, he and his wife, Ginger, aim for 50 days a season on the snow; they're halfway there.
"We are almost always at Keystone, so if someone looks me up on LinkedIn, they can see my outfit, which is relatively distinctive. Let's share a chair and talk innovation between runs."
He also enjoys scuba diving, and, closer to home, riding his home-built electric bicycle to work every day.
"I'm very lucky to be in a group, in a BI, where we have all these wonderful people with different perspectives," he said. "I'm lucky to be in a computer science department that is very collegial; I have a great lab with lots of students. I have lots of great memories from UCCS and I expect to keep collecting more of them."
1. You work with the El Pomar Institute for Innovation and Commercialization (EPIIC). What is your role and how have you/the institute helped student companies realize their dreams?
There are three of us who are endowed chairs of the institute and there are different ways we operate. One of the things we do is hold community outreach events, for instance, EPIIC Nights speakers and Lion's Den Pitch Nights, as well as many others. At some specialized events, I teach seminars. We also have one-on-one efforts.
Part of my role has been to build and drive the transformation of ideas and making change for the community. I've had lots of students; sometimes they realize their dreams, sometimes they don't even know what their dreams are, or they don't know where they are going. By changing attitudes early enough, these students become effective agents of change and they go out and make an impact. Sometimes they don't continue with their initial dreams, but they get to realize they can have other dreams and bigger dreams and different dreams, and that is part of what I want to do for them.
We don't just help students build companies; sometimes we help students realize other dreams, including going to graduate school. One of our former students is at Cornell. When he came here, he thought of being a high school math teacher. I showed him that he had other opportunities to explore to make a greater impact.
2. What are some of the student companies you've worked with?
I'm currently working with a company called Lot Spot, which received some funding from the Green Action Fund at UCCS. They are trying to solve a ubiquitous problem on college campuses – parking. They started down the path of developing an app, and I've been helping them in terms of giving them guidance so they are not only doing the technology but also building the business and understanding how to talk to people about it. Last year, the team won Chapman University's California Dreamin' Entrepreneurial Competition (which came with a $75,000 investment deal and $5,000 in cash).
Obviously, I'm pleased they won, but especially because they were competing against schools like Stanford and the Air Force Academy. It also has been great to see them grow in terms of how they are executing their idea. If they had not been part of the Bachelor of Innovation degree, this might not have happened. In fact, two of the students involved came to UCCS because of this program: They were looking for what would help them become entrepreneurial and innovative and make an impact.
The Lot Spot app will tell you, as you are approaching campus, where you will find available parking. Currently it only monitors the UCCS garage, but this year it will expand to multiple lots on campus. The app will tell you, for instance, that there are parking spots available on the fifth floor of the garage. The technology also produces parking analytics so the campus can know when the lots reach capacity, and that information can be used to help determine class schedules, for instance, or when to grow parking lots.
Lot Spot is moving in a good direction, but there's also the flip side of success. One of our first graduates failed, or at least his company did. He had an idea for a company that was about helping people recovering from addiction. He got money through the kind of processes we teach and started the company. It went sideways in part because some of the business people went in a different direction and he didn't get to show the efficacy of what he was trying to do early enough. There was a disagreement among the founders and the company dissolved, but it was a great learning experience for him. It showed that after a student goes through the process, he's ready to launch his company. Lots of startups are not successful, but there are lots of lessons to learn.
The BI program is extremely interdisciplinary. Students aren't just learning technology, they're working with business majors, for instance. Last spring a team of inclusive early education majors came up with a company that helps busy parents by allowing them to pick up premade meals for a week. Part of what they had to do was to learn to work across boundaries, and so they found some business majors to help them with marketing ideas.
A big part of innovation actually occurs at the intersection of ideas. It's not just technology; you have to have the business piece. The team spent time talking with customers to figure out what they really wanted. A company stands out by figuring out what its customers want as opposed to making it up and seeing where it is going to go. It's also about having a network of contacts that they've built through the program that can help them with different aspects of their project. That level of connectivity is common at big, high-end schools where there are lots of social and professional fraternities. Previously, we didn't have much of that at UCCS, but BI has the same level of social connections across views and fields that give people a lot of opportunities to grow.
3. Technology moves so fast and so many products are coming to market. How does an innovator cut through it all and place his/her company/product front and center? What are some of the biggest impediments?
I would say the biggest impediment is that people think it is all about the money. If you can develop a solution that will really make a difference with people, you generally will find the money, but if you are chasing the money, you're missing the impact.
We try to get students to focus on what will make a difference. If you add value to someone's life, then you will get value in return. One of the reasons I wanted to call the degree a Bachelor of Innovation is because it is focused on innovation and is not about the pursuit of money. Certainly you have to make money to keep your organization financially stable over time, but understanding that when you provide value, the value returns to you is so important. Students need to understand that equation.
The second roadblock for us comes at the institutional level. The BI is growing very fast but we struggle at certain levels because lots of people don't get it. Many faculty members have spent a career becoming the world's expert in a relatively narrow area, and the idea of this interdisciplinary stuff is a little bit foreign and uncomfortable.
Structurally, we aren't a department, and so we don't have the traditional infrastructure that leads to isolation. We cross all those boundaries and are nontraditional. That also makes it difficult to compete in a traditional model of funding.
4. Are there other ways that the Bachelor of Innovation programs at UCCS is a unique model?
There are two or three things that are very unique about the teaching model. We really didn't change the majors much. A bachelor of computer science still includes the same amount of computer science; what we are changing is the rest of the curriculum. The BI core satisfies most of the elements of a student's compass curriculum, but with a much greater focus on teamwork, working across fields and working with clients. Our students are working with all types of different majors, which is a huge skill, a skill I thought previously was missing.
When I tried to hire people for my companies, I found the engineers weren't very good at talking to the business people and the business people weren't good at talking with engineers, and neither were very good at talking with clients because they hadn't been coached in that. Our model is less of a teaching model and more of a coaching model. In some cases, we might have a 30-minute lecture at the beginning of a three-hour class, but the rest of the time entails working with the teams, coaching them through where they are with clients, for instance.
In addition, all of our classes are co-taught by people from different fields. We want our students to understand the importance of multi-disciplinary views and appreciating those points of view. Students see how that works out professionally, and they also see the value of not assuming there's only one way of looking at things, which is an important transformation for the thought process. As everyone knows, that's how the world works.
5. What other projects or research interests do you have?
While the BI is my passion, I also do a lot of research at the graduate level where I am also the chair of the Ph.D. committee in computer science and in engineering. On the research side, I just celebrated having brought in $10 million of funding to UCCS. I was also just named an IEEE Fellow for my research contributions. I have lots of students and funded research largely in the identity space: biometrics and face recognition, which is a sub-area of security, as well as funding for machine learning research.
But I'm also very collaborative. I've done grants with every college on campus as well as dozens of local companies. I believe that research impact often is found at the intersection of fields, so it's helping other fields advance while simultaneously advancing your own field. For example, I'm working with two colleagues at UCCS as well as others at Carnegie Mellon University and the University of Pittsburgh to apply computer science, computer vision and machine learning to a web-based tool to try to help people recovering from mental trauma. It has strong psychological elements as well as strong computer science elements.