SPOTLIGHT
Five questions for sj Miller
Commitment to social justice, improving education inspires associate professor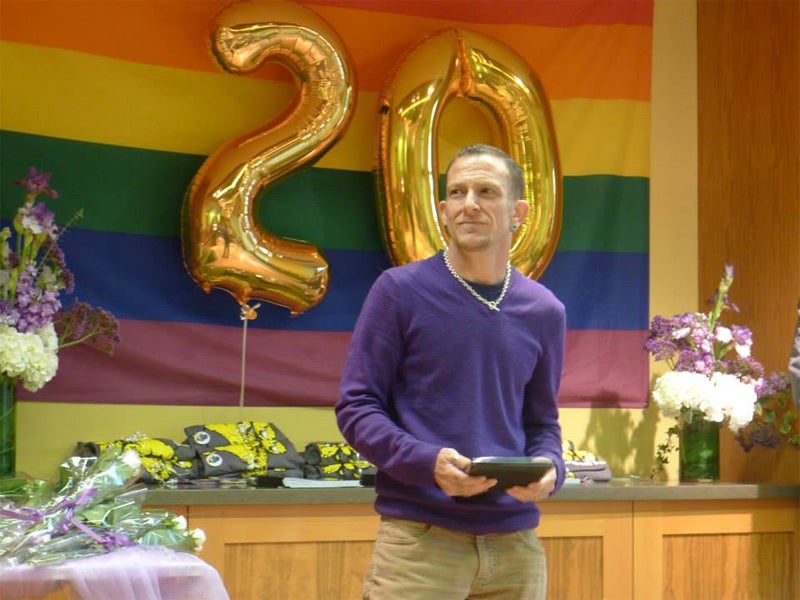 SHOWING SUPPORT
Members of the University of Colorado LGBT*Q community and its CU supporters are invited to participate in a group photograph.
Why:
To increase visibility and express pride in the campus. Photograph may be used in future CU publications and materials.
When:
11:45 a.m. Sept. 30
Where:
Mary Rippon Outdoor Theatre, CU-Boulder
Details:
Attendees must complete and sign a photo release. For a photo release and more information, contact sj Miller at
sj.miller@colorado.edu
.
sj Miller spent eight years as a middle and high school English teacher before earning a Ph.D. and moving into higher education. Students inspired Miller to become an educator.
"I learned so much from them. It was the injustices they felt and experienced in their lives and wanting to work through that with them that informed the way I teach," Miller said. "They gave me the hope that education could change if teachers really paid attention."
Miller is an associate professor of literacy studies in the School of Education at CU-Boulder. Miller's studies and work are focused in areas including social justice, anti-bullying and anti-violence, literacy, teacher education, English language arts, and gender and education. Miller also is the co-editor of "English Education" and the book series "Social Justice Across Contexts in Education."
Miller grew up in Santa Fe, New Mexico, and although teaching was a passion, the "sad story was that I couldn't afford to be a teacher. I was coaching varsity soccer and teaching Hebrew school to support my teaching 'habit.'"
As Miller was hustling to earn money, Miller's AP English Literature students were breaking through the glass ceiling and earning high test scores on the AP exam in northern New Mexico.
People began to pay attention to Miller's classroom work and as a result, Miller decided to earn a Ph.D. from the University of New Mexico in educational thought and socio-cultural studies. After earning that degree, Miller spent seven years at Indiana University of Pennsylvania and then two years at the University of Missouri-Kansas City.
The CU position offered the best of both worlds. "I wanted to be closer to home and my chosen family and the School of Education is known for its deep commitment to social justice and challenging inequitable schooling practices," Miller said. "There already is a plethora of outstanding and genuine educators in the school and it was the perfect opportunity for me."
1. You have interests in a number of areas, but is there one in which you are more focused? What are some current projects that you are working on?
My work really is in social justice, specifically socio-spatial justice. I work with and support preservice English teachers to help them think about putting social justice at the core of their teacher identity. The word "spatial" indicates that they are going out and doing the work in the environments around them. I've worked very hard to enumerate what social justice means. I did a five-year study that created a standard in English teacher education – the first in the United States. We've never had a standard for social justice, but now teacher candidates becoming certified to teach English are being assessed to make sure they understand what social justice is and how it looks in the classroom.
For instance, I work with teachers to help them think about what types of oppressive narratives operate in a classroom and what they can do to unpack and flip those narratives, including age, social class, gender, gender identity, gender expression, sexual orientation, national origin, body type, accent, color and more.
I spend a lot of time thinking about undervalued identities, including the identities of students that aren't recognized by curricula. I have a new book that has gone to press, "Teaching, Affirming and Recognizing Trans and Gender Creative Youth: A Queer Literacy Framework." I created a queer literacy framework, which is about supporting K-12 teachers so that they can think about gender in different ways in the classroom so as not to position kids with gender at all but to let them self-determine their identities. There are 14 teachers across the U.S. who wrote chapters using my framework.
I'm also starting a study on a cohort between a group of secondary preservice English teachers in South Africa and here at CU. They are going to be studying the queer literacy framework over time. It's exciting because South Africa doesn't have a curriculum that supports teachers who want to work with LGBT* youth. My research partner is maybe one of three or four professors in South Africa doing that kind of work.
2. You received the 2015 Joanne Arnold Courage and Commitment Award from the Chancellor's Advisory Committee for contributions to advocacy and education in the lives of LGBTQ people at CU and beyond. What is some of the work you've done on behalf of the university and the LGBTQ community?
As a first-year faculty member, receiving the award was a huge and unexpected honor. I run the student chapter of the National Council of Teachers of English, which is the professional organization for students becoming secondary English teachers. I also am on the Lambda Literary Board, and both organizations require members to do service projects. I wondered if we could do these things together and include one of my passions -- young adult literature. So we developed a queer young adult literature conference – the first in the world – and brought in about 200 people – kids, teachers, parents, policy-makers – from across Colorado. It was a fantastic day and we hope to hold another, similar conference in the future.
In addition, I've been invited to keynote about the queer young adult literature conference for the annual conference of the "Journal of Language and Literacy Education," and have been asked to do a number of talks across campus. I just found out that I was unexpectedly elected to be the co-chair of the Queer Sig of the American Education Research Association and have been appointed as affiliate faculty with Women and Gender Studies, LGBT Studies, and Culture Language and Social Practice (CLASP).
The nomination for the award pre-dated the conference and I believe a student nominated me because we are similarly inclined in our dedication to anti-bullying.
3. The Chancellor's Advisory Committee, of which you are a member, has planned a group photo for supporters and members of the LGBTQ community. Why a photo? How will the photo be used?
Because CU has received this really nice honor of being one of the top 25 LGBT campuses, I thought it would be cool if we could get a photograph of all the people on our campus who support LGBT* people or are in the LGBT* community. Everyone liked the idea. Right now I'm gathering names and photograph releases. We hope that the photo will be used in university publications and we want it to be on billboards, as a way to say "Here we are; here's our campus; we support each other." People will be asked to wear a certain color T-shirt and we'll emulate the rainbow and trans-rainbow flags for the photograph.
4. Did your research on social justice spur you to become involved with anti-bullying and anti-violence work on campus? Are we making progress on preventing bullying?
Some kids are bullied in school. I was never bullied in school, but I was not treated well at home. Since I grew up in a stressful home, I ended up loving school because it became my safe haven. School was the only place I had some control. Because of that, I became a teacher committed to creating that same safe haven for my own students. I truly paid attention to what issues the kids were bringing from home and a common theme was bullying, and it wasn't just at home, it was on the school grounds as well.
I think we are making progress in prevention, but my biggest concern is that we don't have federal legislation on bullying. Bills have been stalled on the House floor a number of times, and they always fail, and that leaves how to address anti-bullying issues at the state level. The problem is that states don't have to enumerate which identities are protected, so the amount of progress really depends on what state you are talking about.
5. Outside of work, what hobbies or leisure activities do you enjoy?
Swimming is my favorite sport. I was a very serious soccer player my whole life. In fact, I was the first "female" All-American soccer player (I am transgender) out of New Mexico. I received a full ride to the University of California, Berkeley to play. Sports and school – those are my things. When I stopped playing soccer, I coached, and then put all that extra energy into what I was already doing, and that was running, cycling and swimming. Combined, these sports became a natural transition to be a triathlete. I race here and there, but for now, I do my own mini tri each day — it centers and calms me.