SPOTLIGHT
Five questions for Paige Whitney
Clinical instructor at Center for Active Living spreads gospel of integrated health and wellness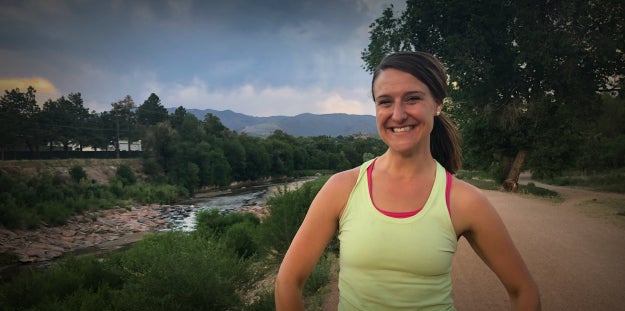 As a biology major and college basketball player, Paige Whitney was always interested in how activity and nutrition combine for optimal performance. After graduating from Colorado College, she moved to Seattle where she managed a multidisciplinary health and wellness clinic. Working with a variety of providers and developing lifestyle programs helped Whitney understand the benefits of integrated and holistic health.
Her desire to grow professionally – and the Colorado sunshine – brought her back to her native Colorado Springs, where she completed her master's in health promotion at the University of Colorado Colorado Springs.
Whitney is clinical instructor at the Helen and Arthur E. Johnson College of Nursing and Health Sciences and director of the UCCS HealthCircle Center for Active Living (CAL). Her position at CAL allows her to work with dynamic professional teams to develop, implement and sustain innovative health and wellness programs for the Colorado Springs community while simultaneously providing students hands-on experience and training in the field of health promotion. Beginning this fall, she will teach her first lecture class (Project Management), which will complement her current practicum and internships teaching responsibilities.
She practices what she preaches, using active transport to and from meetings on campus, and in her free time, she can be found mixing it up with UCCS faculty and staff colleagues at campus intramurals (basketball, volleyball and kickball) or playing on a community club soccer team. If she is not being active, she likely is trying a new recipe or restaurant with friends. Her big adventures this summer include exploring area trails in preparation for the upcoming Pikes Peak Ascent.
1. What is the mission of the Center for Active Living and what are your responsibilities?
We have a dual mission at CAL: educate future generations of health and wellness providers and promote and support healthy lifestyle change for our Colorado Springs community. I have the beauty of leading these efforts at CAL and working with dynamic teams in the creation and administration of innovative and integrated programs that are continually developing and being field tested at Lane. I especially enjoy introducing students to real-world examples of what integrated health and wellness programming can look like and how to apply it to various situations and populations.
2. How does the Center for Active Living differ from other fitness and wellness centers?
The university setting, including the access to current literature, collaboration with experts in their fields and engagement with students truly makes our programming distinctive. CAL uses current literature to help inform our practice and provide a personalized approach to physical activity and wellness. Furthermore, CAL is co-located in the Lane Center for Academic Health Sciences, which allows for intentional interactions among providers and that helps to infuse other aspects of health (i.e., nutrition and behavioral health) into our programs. Finally, having student interns involved in our programming increases participant motivation and the capacity to capture both observational and objective data to evaluate the effectiveness of our programs.
CAL's foundation is health promotion through functional movement. At CAL, we aim to help individuals move with proper technique to develop confidence to do the activities they need to do and those they love to do. The literature shows that maintaining a safe, effective, physically active lifestyle is more difficult than initiating a program. Therefore, our focus is to give individuals the knowledge, skills and motivation to move functionally with purpose, simultaneously shifting their perception of moving as a "have-to" to finding meaning in movement. As my mentor and creator of the CAL philosophy always says, "Let's help people learn to view physical activity as a 'get to' – not a 'have to.'"
As the director, I work to plan, implement and evaluate the current programming at CAL while creating and incubating future integrated program ideas. We do continual program evaluation and use our outcomes in combination with the literature to enhance our programing.
3. One of your research/publication interests is titled, "Physical activity: A hopeful pathway to productivity." What is the premise of this idea and what have you learned?
I have always been interested in achieving optimal performance. At first, it was performance on the field or basketball court; but, as I pursued my master's degree, I became interested in exploring how to help employees obtain and maintain optimal performance in the workplace.
One day while doing a literature review for my research class, I found an article that used the term "presenteeism." Although the work is thought to be useful in defining productivity, it lacked a strong definition. In short, presenteeism is being physically present at work but not mentally present, which most people can relate to. What I really wanted to learn more about was how being physically active may influence stress, productivity and, therefore, presenteeism at the workplace. To better understand this concept, I developed a mixed methods study using surveys and focus groups and found that engaging in physical activity, either in a structured fashion or spontaneously throughout the day, can be a balancing agent to help mitigate stress and increase productivity in the workplace. These research results have informed my work in the development, implementation and evaluation of integrated models for worksite wellness programs, including the one for the city of Colorado Springs employees.
4. Recommendations for the "best" nutrition and physical activity practices seems to be ever-changing. What advice do you give to your clients?
Through my studies and experience with various populations, I have learned that it is never too late to become physically active or to pursue health and wellness goals. Lifestyle change is difficult but not impossible with good support from professionals and one's social group. Being physically active, whether structured or spontaneous, helps mitigate stress and improves mood and productivity at one's workplace and in their life in general.
5. What do you hope the students take away from both their classroom work and their work with CAL?
Student involvement is a deliberate design element in our programming. Therefore, through hands-on experience, I want the student interns to develop the ability to translate what they have learned at CAL and apply it to new settings in the future. For example, if they are working with people with Parkinson's disease, I want them to be able to take the skills, knowledge and expertise of working with one population and be able to adapt it to another population. It's about being able to think critically to use the skills they've learned.
Programs offered at CAL
Worksite Wellness Programming
Skill-based programming focused on working adults. One current partnership is with the city of Colorado Springs and includes an interdisciplinary menu of offerings: custom fitness appointments, group fitness classes, cooking classes and on-site "lunch and learn" sessions.
PWR! Moves Exercise Classes
Group exercise classes for individuals with Parkinson's Disease. This program helps slow the progression of symptoms, increases confidence in activities of daily living and enhances overall quality of life in participants.
Strength and Stability Classes
Fall prevention classes for individuals of all ages and functional levels. These classes combine elements of balance, agility, cardiovascular fitness, strength training and flexibility to reduce fall risk and increase balance confidence. Tai chi classes also fulfill these goals.
Personal Appointments
One-on-one appointments and personalized fitness programs tailored to meet individual needs and interests. The programs help individuals get started exercising and/or enhance fitness in order to meet goals no matter where they are on the fitness continuum.