SPOTLIGHT
Five questions for Irene Griego
Regent makes history as first Latina elected board chair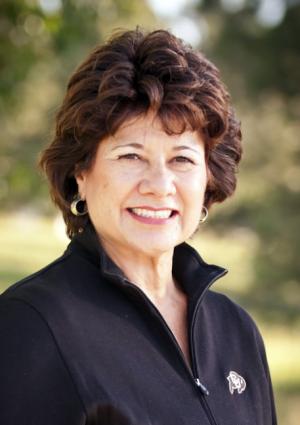 The University of Colorado Board of Regents made history in September when it elected Irene Griego as board chair. She is the first Latina to serve in the position in the university's 140-year history. The board also elected Glen Gallegos as vice chair, propelling Latinos to the top two leadership positions on the board.
Griego is a lifelong resident of Colorado whose career in public education took root with degrees from CU. She earned a bachelor's degree in elementary education from the University of Colorado Boulder and a doctorate in school administration from the University of Colorado Denver, as well as a master's in educational administration from the University of Northern Colorado.
Griego, a Democrat, was sworn in as a regent in December 2011 after being appointed by Gov. John Hickenlooper to represent the 7th Congressional District. The seat formerly was held by Regent Monisha Merchant, who resigned to work for Sen. Michael Bennet; Griego's appointment continued through the general election in 2012. She was elected in 2012, serving until the 2014 general election, and re-elected to serve from 2015-21. Colorado is one of only four states to elect members of the governing board for the state's flagship higher education system (the others are Nebraska, Nevada and Michigan).
In her 38-year career in public education, Griego worked as a classroom teacher, elementary school principal, community superintendent and instructor for aspiring school administrators. She established the Office of Diversity and Inclusion in Jefferson County Public Schools and served as its director after retirement. She spent a decade as community superintendent for Jeffco Schools, responsible for overseeing 37 elementary, middle and high schools in central Jeffco.
1. What is your goal as chair of the Board of Regents?
My top priority is developing a spirit of collaboration and working in a bipartisan manner to focus on the best possible education for CU students. Our work must focus on education, not politics. The regents should serve as role models, listening with respect and seeking to understand all views to reach consensus on issues that affect the future of our university and our students.
The regents represent a rich diversity of experiences, perspectives and backgrounds, and we can make better decisions if we problem solve together. To ensure the best possible outcomes, we also should work in partnership with our administration and faculty, taking advantage of their expertise and experience.
We are also an important link to the people of Colorado, who elect us to serve as their voice. CU has a substantial impact on the quality of life in our state in so many ways – economic, cultural, health and wellness, and innovation, among others – so it's important that the board's viewpoint is both internal and external to the university.
2. Diversity issues have been a common thread throughout your career. How do you see CU doing in that regard?
As a lifelong educator, I have learned firsthand the importance of providing opportunities that support all students and help them succeed. At CU, we have made some good progress but still have work to do.
I continue to be an advocate for diversity and inclusion and championed the appointment of a new system-level vice president who will focus on these issues. In today's global economy, that role is as critical as any other position at CU. We need experts – educators who have a national perspective and a deep knowledge of research-based data – to develop a welcoming environment for all faculty, staff and students where everyone feels valued, supported and included.
The vice president will also be charged with ensuring that CU has a diverse workforce. To accomplish all this, the person will need to collaborate closely with leadership on the campuses, particularly the chief diversity officers, to ensure we are sharing best practices, collaborating across CU and leveraging some of our successful programs. Another role will be reaching out to students from diverse backgrounds across our state and encouraging them to make the decision to attend CU.
Furthermore, we should focus on providing the support needed to retain students from all backgrounds, so they can graduate and become active participants in our society.
3. What do you see as the significance of being the first Latina to serve as chair of the CU Board of Regents?
I hope to be a role model for all students, not just Latinos. It's important for people of all ethnicities to have role models, and I'm humbled and honored to be in this position for our students. My goal is to represent all students, staff and supporters of the university. The Board of Regents has a diverse membership representing different facets of our society, which is a strength because we look at issues through multiple lenses.
4. You're an advocate of continuous improvement. How can that manifest itself at CU?
Continuous improvement means taking a critical look at our system and honestly assessing where we are and how we can be better. We need to start with the regents and reflect on our operation as a board. What are our roles and responsibilities as policy makers? How can we be most effective and efficient? How should we work with the president and chancellors to create the best possible outcomes for our students? For continuous improvement to succeed, we need to be honest, open-minded and receptive to positive change.
5. What are some of the short- and long-term issues on the Board of Regents' radar screen?
Short-term issues include the budget, funding and impacts on student tuition. As already discussed, creating a diverse and inclusive environment for faculty, staff and students is another short-term goal.
For the long-term the most critical questions are – What is the role of the university in the future of our state and society? What our obligations and responsibilities to our students and our state? What kind of learning needs to take place to prepare students for the future? To address these issues, the Board of Regents is in the process of developing a strategic vision. As part of that endeavor, we will be engaging various parts of the university community this fall and in the spring. My greatest hope is that we can work collaboratively to create a vision that will provide a roadmap for our university for at least the next decade.