SPOTLIGHT
Five questions for Gloria Main
On Faculty Council, CU-Boulder history professor emerita still an avid advocate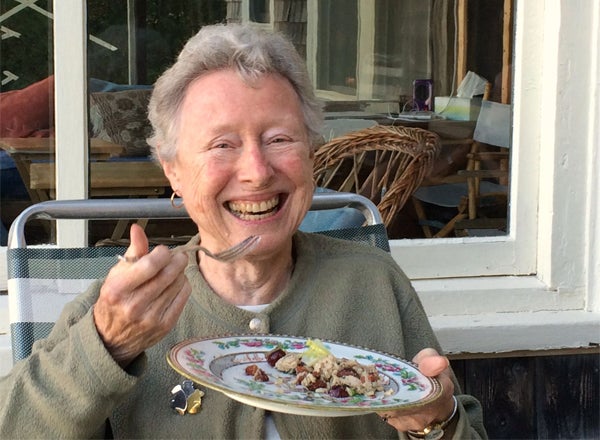 In the middle of graduate school in California, Gloria Main found herself with a big decision. She had received a marriage proposal from a former professor, but she had always toyed with the idea of not marrying and continuing her studies in economics to become a professor.
"The times that you are living in shape your future in lots of ways. If I had been born a good deal later, I think my whole career would look very different. Because he was so much older, the marriage and the children would have to come right away. I postponed everything and got married and had children," said Main, now a CU-Boulder professor emerita. "I couldn't go back to graduate school until the kids were in school because in those days there weren't nursery schools and his parents and my parents lived far, far away. So I stayed home like a good girl."
When the children were old enough, Main decided to resume her studies, working toward a master's degree in American history. Her husband was an American historian and she fell in love with the field of study. She went on to earn her Ph.D. from Columbia University.
"By that point, I was 40 years old, and the whole New York City-area was a disaster zone for new Ph.D.s. I couldn't get a job. I did part-time teaching here, there and everywhere. When I got the job offer from CU, it was very, very welcome. My husband could retire and moved with me to Colorado in 1983."
A few years later, while serving on the vice chancellor's advisory committee, she befriended Bruce Ekstrand, at the time the vice chancellor for academic affairs. He confessed, "'When the history department wanted to make you an offer, they had to clear it through me, and I almost nixed it… You were 50 years old, you had published a number of articles and you had a book coming out. I just didn't think you were going to stay here for very long.'"
She's grateful he changed his mind. Main spent 20 years at the university as a professor, teaching and researching in a history department in which she still expresses great pride.
"I worked out," she said.
1. How did you choose history as an area of research and what did some of your studies find?
I have had a most unusual career by modern standards. As any historian would tell you, life was different when I was young. I majored in economics and went on to graduate school at Berkeley. I was the only female graduate student and there were no female professors. As much as I loved economics, because it structured reality as I understood it, I realized being the only woman in the department was going to be rather tough. What I did enjoy that year was economic history, especially early economic history – the pre-industrial days.
I could apply my economic structures idea to early American history, and at that point, very few people were doing that, so it was a wide open field. That's what I did my first two books on. The first one, "Tobacco Colony: Life in Early Maryland, 1650–1720," compared a plantation economy with a farming economy. I had a good time contrasting one with the other.
I love research, I really love research; writing is hard work. I could do the research forever and never write. I used a much under-used resource when I began — probate records. In both Maryland and Massachusetts, because of the way the system was set up, the coverage was pretty good. Most people were modest property holders who showed up in the probate records, so it wasn't a case of looking at what the well-to-do and rich were doing. I could look at the records as an economist. I could look at the insides of peoples' houses and look at the furniture and the kinds of kitchen equipment that was there. Working with probate records and inventories of the state and wills told me a lot about family life. I found room-by-room inventories so I could actually relate the level of wealth with the size of the house, and the furnishing could tell you what kinds of functions went on in each room.
One thing I got interested in was using genealogy to track family formation. I could track over time the age at marriage for men and women and the number of months after the marriage date until the birth of the first child. There was a real surprise there in that there was a big explosion of premarital pregnancy rates. In the1600s, the rate was very low, but in the 1700s, it expanded to 1 out of 3 marriages where the bride was pregnant. The rate declined rapidly in the early 1800s, and I also found that the size of families was shrinking. I uncovered quite a bit of evidence of fertility control of one kind or another, and there was a very different attitude emerging toward family relationships, toward children and toward sex. Another interesting thing is that it wasn't the urban middle class leading everyone else; the trend was everywhere – rural, urban, suburban — throughout New England.
2. What other topics did you study?
I looked at gender and the kinds of work that women did versus children versus men and the kinds of wages that were earned. And this I did for New England because by that point, I had built up a very large data file for early New England. I'm still following up on that because I'm pursuing research on children's lives and child labor.
3. As a professor emerita, you are still connected with the university through the CU Retired Faculty Association (CURFA). What is your role with the organization?
I joined CURFA a couple of years after I retired in 2003. I was 70 years old and my husband, who was considerably older, was ill and needed me at home. I simply had to retire to help him out. Unfortunately, he passed on a few months after my retirement.
I became very active in CURFA and became an officer. I'm currently the CURFA representative to the Faculty Council.
CURFA's first function is social, providing a platform for talks and socializing. Secondly, we are advocates. I'm supposed to be able to give the point of view of retired folks to the Faculty Council or to any administrator who wants to sit down and talk to me about it. Mostly, however, we feel the same about the issues as we did when we were active faculty. First and foremost, we care a lot about the university and that is always No. 1 in our activities and discussions. Universities across the country are going through all kinds of troubles – political and financial. Teaching has been almost transformed. All of these things are of great concern to us.
We're very concerned about the relative decline of tenure. Something like half the teaching credits at Boulder are being taught by non-tenure track folks. They have doctorate degrees and are otherwise well qualified but they don't have the benefits or the security.
Serving on Faculty Council has really been illuminating. This upcoming year will be my third year, which means my term will be up, but I can serve for another term and would like to continue serving. I enjoy it, meeting people from all over and different departments and listening to what's going on now as opposed to what I remember from 10 years ago.
4. Do you have a favorite memory or achievement from your time working at the university?
My husband was an early Americanist, and when he came out here, he had retired. One of the first things he noticed was the kind of relative isolation of Colonial and other early-period historians. Most of the action was going on on the East Coast. We put together a mailing list of other early Americanists in the West and we invited them to come to CU for the weekend. We'd throw a big dinner party and we'd have our own conference – people giving papers, discussions of books and teaching. It became an annual event. They chose a most delightful name: Front Range Early American Consortium or FREAC. So we were FREACs and the organization is alive and well after all these years. We held our first meeting in 1985 and this year's meeting is at the University of Arizona in Tucson. We have about 30 active members. It's wonderful. It's what we remember from grad school days but without the grades and the professors. Every year, the excitement of why we started in the first place comes bubbling to the surface and I thoroughly enjoy it. No other history conference is this much fun.
5. In what other ways are you enjoying your retirement?
I grew up in California and I had never traveled. My parents didn't own a car. I married this cosmopolitan professor who whisked me off, and we took the California Zephyr from Oakland to Chicago. We did all kinds of things I'd never done before, like fishing in a rowboat. We toured all of his relatives so I saw a lot of the United States. We ended up at the family's cottage on the coast of Maine. His mother had inherited it from her father, who was a Harvard professor. We practically raised our kids there every summer and I continue to go back there every summer. That cottage is like a time machine, furnished the same and without major changes. It's a lovely place.