SPOTLIGHT
Five Questions for Erin Hackel
Classical vocal scholar connects with students who sing a different tune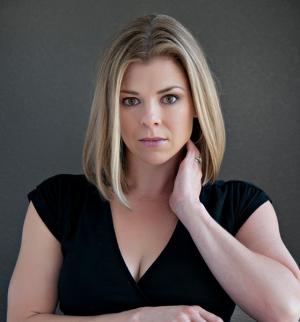 Erin Hackel's talent and love of vocal music landed her on stages singing opera and musical theater. She puts that experience to work as an associate professor at CU Denver's College of Arts and Media, in the Music and Entertainment Industry Studies Department, which she joined in 2003.
The Virginia native's expertise is in classical singing, having earned three classical vocal degrees, including a doctorate at CU Boulder. Yet at CU Denver, she plunged into a world where student demand necessitated understanding contemporary vocals.
"The difference between the two is a technical one," Hackel said. "It's a different way of producing the sound. It involves different usage of the vocal folds, the mechanism itself. That's one piece of it. Another piece is the physical height of the larynx: It tends to be quite low for classical singing; it creeps up for belters. They're two totally different ways of using the voice. To my mind, one is not any better than the other, they're just different."
The mother of two sons, she's also a voracious reader who loves to cook.
1. You work with student a cappella groups at CU Denver, including MIX, the Ninth Street Singers and currently Lark. How do you go about forming and leading these groups?
I was asked many years ago if I would start a vocal ensemble. We have lots of different ensembles in our department – pop, rock, electro-acoustic, one that uses different kinds of mobile devices as instruments. I was asked to add a vocal ensemble to the roster. I really had an affinity for it and now we have a full-on a cappella program in our department, which is really great. There are beginning, intermediate and advanced ensembles.
I started entering my groups into different competitions. They did very badly at first! I learned a lot and now our all-female-identified group Lark has won a good number of awards, in competitions and for recordings. Last year we won a competition in Arkansas, and the prize was to travel to Asia to perform, which was a great experience for me and the students. Lark's first album, "Migration," was released in May. It's already up for six contemporary a cappella recording awards, which is fantastic. I'm really proud of them. The album is great and really shows who they are.
Lark performs a minimum of 10 to 15 times per semester – new student convocations, donor dinners, CU South Denver functions, or a hired gig in Denver. And of course competitions, so we're busy. I'm always with them when they travel. Most of the things we're doing are affiliated with a large festival: They'll get industry professionals to come in and judge; I tend to be asked to teach classes at the festivals.
We do everything as a group. From song selection to what they want to look like to movement to deciding what gigs we're going to do and not do. Everything comes organically from this group, the seven of them and me. I count myself as an equal spoke in their wheel. We filter everything through a brand. This group of young women has decided their brand doesn't have anything to do with sex or talking just to a man, right? So that filters out a lot of material for us to use. But in the end we come up with material that is important to them, with emotions they want to convey.
Right now, they all wear vintage dresses from the '50s, to comment on gender and misogyny. They pair it with combat boots – they're not going to wear heels – and the result is wonderful. It's wonderful to watch them.
2. How does the rise and continued popularity of TV singing competitions affect students deciding to pursue music education – or how you approach teaching?
I think certainly contemporary a cappella has become very popular because of shows like "Glee," "American Idol," "The Voice" and the "Pitch Perfect" movies, which are based on one of the United States competitions. Though "Pitch Perfect" is a very silly movie, there's a lot of truism and accuracy to a lot of it. I think that has definitely affected the field.
I only listen to NPR, so I'm not sure I'm particularly affected by the pop culture stuff, to be honest. My groups win a lot of awards for innovation. From my own background in opera and musical theater, I tend to bring in elements that are very different from your traditional a cappella group. I'll bring storytelling, costuming – very theatrical elements. I've had a whole stage set made of PVC that had to be transported across the country. It tends to make an impact and the groups tend to get awarded for it.
3. You mentioned your background as a classical singer, yet you found yourself often training contemporary singers. How did you make that transition, and what are the challenges?
This is actually the core of one of my most popular classes I teach, which is how to sing in all styles. My DMA (doctor of musical arts) is in voice performance and pedagogy, and my master's is in opera. So all of my singing was classical singing. I still sing with the Central City Opera in their outreach ensemble. I left my doctorate very well-prepared to teach classical singers – then was offered a job teaching contemporary singers. Honestly, I was a little panicked at first. Because it's a very different way of singing.
Within the university setting, the way classical teachers have often reacted to pop or contemporary singing is … a little classist, right? "This is a lesser way of singing. Classical singing is the way to sing properly and healthily." Certainly, when I was looking around at how to do this, I did encounter a stigma against contemporary singing with some classical pedagogues. I think it's changing. Some classical programs are embracing what is a different cadre of students that can potentially come into their schools and learn in a slightly different genre and become singers.
It was about a 10-year journey for me to start researching how to teach contemporary singers. Frankly, there's not a lot out there. There's centuries of literature about how to teach classical singers. I had to cast my net very wide. To do scientific work, I ended up going to some places – one in California and an institute in Denmark – where they were teaching researched ways of singing contemporary styles of singing. I slowly started applying things to my students. Now I have a really clear and firm method, which is pretty tried and tested. I have a decade of healthy singers behind me, and they can all belt as high as they want – well, as high as I want them to!
4. You once said that, with your teaching, you strive to "demystify the voice." How do you go about that?
For me, taking voice lessons can often be a very mysterious thing. There are ways of teaching singers to sing that don't tell them exactly what to do. Or they go about it in a metaphorical way: "Sing as if chocolate is streaming from your cheekbones!" As a young student, you visualize, you try, then the instructor says, "That's perfect." And you think, what did I do?
The method I use is extremely straightforward. It's placed on a grid. I can tell a singer, do you want to sound like a soul singer? Great – look at the grid here, here and here. This is how we sound like a soul singer. They're very exact things they can do – like anchor the larynx – and that, to me, is demystifying the singing.
5. How did you come to focus on female composers and performers in your research and publications?
Roundabout, like anything else, right? It has come full circle. I'm fluent in Norwegian. My mom is from Norway. So a lot of my work during my doctorate was in Norwegian and there were a couple of composers and artists that I was very interested in and able to go to Oslo and research. They happened to be women. But looking back, I think I have always had an affinity for women's voices and messages, and how they've overcome adversity.
One of the first articles I wrote was about a Norwegian composer named Agathe Backer Grøndahl. She's just this wonderful composer. I came across a group photo of composers from the 19th century, and there she is, the lone woman, among this sea of Scandinavian men. It wasn't easy for her.
Now I have Lark as my advanced group and it gives me such joy to give these young women a platform for what they have to say. To help put them on stages so they can tell people who they are as artists and individuals, I feel so lucky and privileged. It makes me want to cry a little!