SPOTLIGHT
Five questions for Dave Walter
Camp coordinator paves creative path linking high schoolers with CU Denver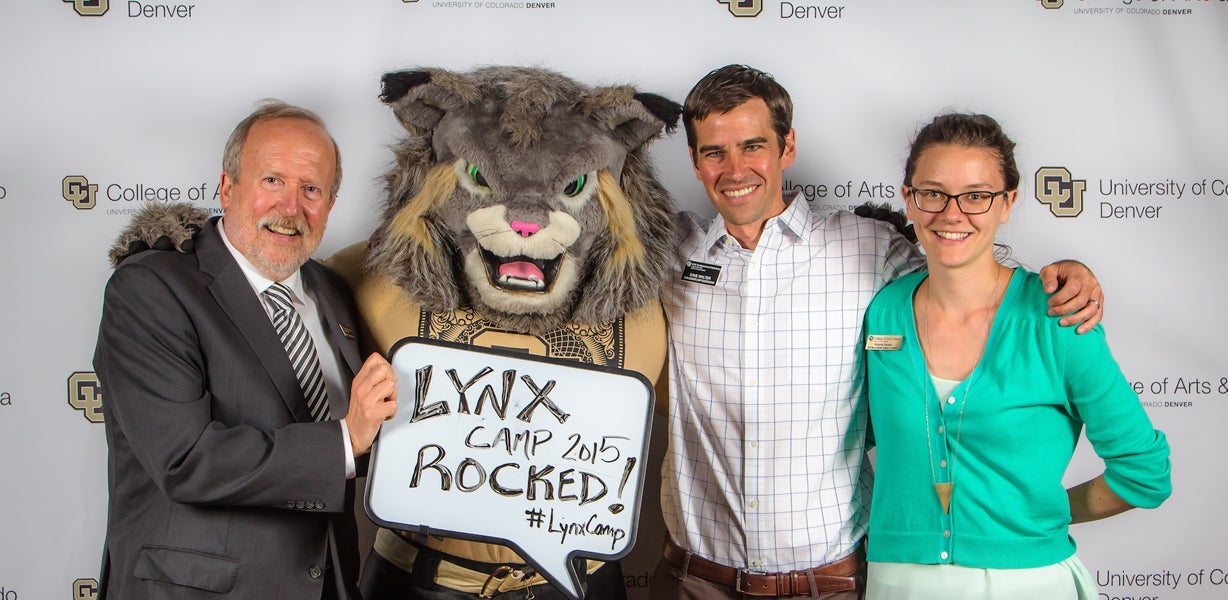 Photo courtesy Dave Walter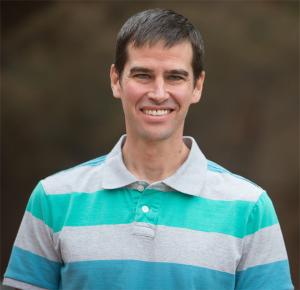 Summer camp takes on a whole new meaning at the University of Colorado Denver's College of Arts and Media (CAM), especially for Dave Walter, coordinator of the LYNX National Arts and Media Camps. No ghost stories or roasting marshmallows here (at least not officially); instead students create films, music scores and photographs, all under the mentorship of university faculty members and other professionals.
Walter was hired as the camp coordinator less than a year ago after another summer program was revamped and expanded. The first LYNX camp, completed in June, was a great success, Walter said, and serves not only to introduce high school students to the arts and media industry, but also showcases what the university has to offer.
"We want to provide a potentially life-changing experience for high school students by exposing them to new technology and career paths in the arts," he said. "Additionally, we hope that by attending the camp, students will receive a preview of the wonderful programs and facilities that we have at CAM and make impactful relationships with our faculty and staff members that will lead to them choosing CU Denver for college."
The camp offers scholarships to students who might otherwise not be able to afford it. That aspect of the program is important to Walter, who previously has been instrumental in paving the way for needy students to find and obtain financial help for college.
Another reward for Walter was seeing all of the planning come together to create the camp experience. "It was incredible to observe the students light up as they made new friends from throughout the country who shared similar interests. I loved watching the students perform and display their work for parents and their peers at the end of the camp."
Walter and his partner, Dana, previously had "great jobs" at Stanford University, but as the family grew, the two began to think that Denver would be a good long-term fit for them. "It has a vibrant culture, is close to wonderful outdoor recreation, has good job opportunities, and is close to our family in southeastern Wyoming."
When Dana received a job offer in Denver in May 2014, the pair made the move and Walter was hired by CU Denver in November 2014.
"I had been working in financial aid at Stanford, but I was excited to transition back to a different area of student services," Walter said. "Many of my first jobs in higher education were in summer programs and I've always valued the impact summer programs have on high school students as they begin to ponder big life decisions such as college and career choices. I knew the position would be challenging, especially initially as we established the camp, but I like challenges and was really excited to have a leadership role building the summer programs."
1. How did you choose this career path?
After a few years of trying to find direction in college at the University of Wyoming (UW), I realized that my major – engineering -- wasn't the right fit for me. I took a semester off and went back to Cheyenne and lived with my parents. In addition to working for my dad as a plumber's assistant, I took courses from the local community college in acting and psychology: areas that interested me and were much different than the math- and science-heavy engineering course load that I had been taking. I also coached a recreational high school soccer team. These experiences helped me to realize that I really enjoyed working with people and the process of learning. This was a big moment in my life and led me to return to college at UW as an education major. I thrived in my education classes and the following summer I was further inspired by a job working as a team leader for the UW Upward Bound Summer Program.
After college graduation, I worked for the Department of Education TRIO programs for a few years and decided that I wanted to make a career of working in higher education student services. College was a life-changing experience for me and I wanted to help other students, particularly students from low-income backgrounds, have the opportunity to attend college. I went on to earn a master's degree in higher education administration from the University of Kansas.
2. How did the LYNX camp come about and how did you become involved?
The concept of a summer camp for high school students was initiated in 2014 by two of our music and entertainment industry studies (MEIS) faculty members, Owen Kortz and Peter Stoltzman. With the department's support, they created a successful two-week Summer Music Industry Program Camp in 2014 that was attended by 26 students. A month after the 2014 camp, Larry Kaptain was hired as the new dean of CAM. He thought the camp concept had tremendous potential for the college in terms of improved outreach and recruitment. He committed resources to the camp and decided to expand the camp to some of the other programs at CAM (photography, movie production, and digital animation) and rebrand them as the LYNX National Arts and Media Camps.

I was hired to coordinate the expanded LYNX arts camps. My first duties involved meeting the key faculty leaders from the programs and creating marketing and recruitment plans. With tremendous help from the assistant coordinator, Victoria Vanest, we revamped the schedule to allow four separate academic programs during weekdays with common guest artist presentations and field trips on the nights and weekends. We also worked extremely hard to increase our social media presence, visit high schools and recruit students. The increased student programs also meant hiring more staff for the camp. We spent a lot of time selecting the best candidates and hired about 35 fantastic staff members for the 2015 camp.
3. The first camp wrapped up at the end of June. How did it go?
Overall, the 2015 LYNX arts camp was a big success! We had 94 students attend the camp and so much learning took place over the two weeks. We employed 28 CU Denver faculty members and students and the academic instruction was incredible. The camp ended with a banquet and student concert attended by parents and family members. The photography and digital animation students exhibited their work; the movie production students screened the films they created; and the camp ended with the music industry student concert. All the student projects and performances were wonderful!
The camp field trips and guest artist presentations were some of the students' favorite events. They received guided tours of the Denver Art Museum, the Pepsi Center and the Denver Museum of Contemporary Art. Students also attended some of the SeriesFest Film Festival events and the Steel Pan Collective Concert on the CU Denver campus. We had a phenomenal lineup of guest artists at the camp. Javier Colon, the winner of season one of "The Voice," spent a day at the camp performing and mentoring students. We were also fortunate to have CU Denver alum Bridget Law from the band Elephant Revival at the camp for a day. Other musical guest artists included DJ Chonz from KS 107.5 in Denver and Sarah Atareth. Additionally, three fantastic filmmakers visited the camp: John Morrissey (director/producer from Hollywood), Mitch Dickman (documentary filmmaker and CU Denver alumnus), and Steven Fischer (animator/filmmaker from Chicago).
A survey confirmed that the students had positive camp experiences. Eighty-nine percent of students who returned surveys agreed with the following statement: "I would recommend this program to other 14-18 year olds." In addition, 75 percent of students who returned surveys said they liked CU Denver better after attending the camp. Another 15 percent responded that they had already liked CU Denver a lot before the camp and continue to like it the same amount.
We will be revising a few aspects of the camp prior to next summer. The students said they had to do too much walking, which wore them out. They had a good point. The residential students stayed at Campus Village, which is a ways from many of the academic buildings on campus. They had to walk back and forth for meals throughout the day and many students became fatigued. We're going to find some ways to reduce the walking for next summer.
And I'll never forget our trip to Red Rocks Amphitheater. Thanks to the SeriesFest organizers, we received extremely discounted tickets to the opening event, featuring a concert by John Legend. I checked the weather all day, including right before we left, and there was a 0 percent chance of rain. Wouldn't you know it? About 45 minutes after we got there, it started to drizzle. A half-hour later, the drizzle turned to pouring rain with the threat of lightning in the area. The show was postponed and we were told to go to our vehicles to wait out the storm. It was quite an undertaking trying to get 94 soaked high school students – who were somewhat spread out among the seats, concessions and restrooms – to the same exit to get to our buses. I was sure that we were going to be missing a few students when we were finally able to do an attendance check at the bus. But to the credit of the students and staff, everyone made it back to the bus. What a Red Rocks experience!
4. Are there other camps or programs you are working on?
I recently accepted a new position as the College of Arts and Media assistant director of outreach and admissions. I'll now be the point person for recruitment at the college in addition to directing the LYNX camps. I'll be attending a lot of college fairs and conferences this fall to recruit students to the college. We've also started planning the 2016 camp. We're going to expand the camp to two sessions next summer and we hope to host 145 high school students. The first session will be the music industry program while the second session will feature programs in photography, digital animation, movie production and a new program related to motion graphics. We're also looking into the possibility of producing an arts camp for adults at some point in the future.
5. What have been some highlights or favorite periods of your career?
I'm particularly proud of two achievements from when I worked with the University of Kansas (KU) Upward Bound Program from 2005-2009. The Upward Bound Program helps low-income and first-generation students get accepted into college and achieve successful outcomes once there. The last several years that I worked with the program, I primarily worked with students from Wyandotte County in Kansas City, Kansas. I noticed that a lack of scholarship knowledge and access to scholarships were two big issues that were hindering many of the top students in the area from entering and staying in college. I started a scholarship database website called KCKscholarships.org to try to help students become more aware of available scholarships and provide assistance meeting deadlines and requirements.
The scholarships listed were geared toward the demographics of the county and included all of the local scholarships for students from Kansas City. The website was very successful and helped many students. When I left Kansas in 2009, I passed the website off to my TRIO and GEAR UP program colleagues at KU and I'm thrilled that the website is still active and assisting students today.
I also felt that there weren't enough scholarships for low-income/first-generation students like the Upward Bound students that I was serving. I recruited some KU colleagues and together we created a new Education Opportunity Scholarship Fund at KU that would benefit low-income/first-generation students. We wanted a scholarship that would be awarded annually so we worked with the KU Endowment Office to create an endowed scholarship. The $30,000 that we were required to raise seemed daunting, but we knew it would be worth it. While I was at KU leading the fundraising effort, we raised the first $10,000 and they have since raised the full amount needed to create the scholarship. The first scholarships were awarded during the 2014-15 academic year. It makes me very proud to know that this scholarship will be awarded every year to deserving low-income/first-generation students.