SPOTLIGHT
Five questions for Cleopatra Estrada
Counselor-coordinator retires after four decades of supporting student success at CU-Boulder
Cleopatra Estrada has spent the past 40 years helping hundreds of students navigate the University of Colorado Boulder system and the college life. Many of those graduates still thank her when she sees them or they send her notes of gratitude.
Now she is ready to start a new phase of life. Last week she retired, cleaned out her office, said goodbye to colleagues and acquaintances, and remembered all of her years at – and contributions to – CU.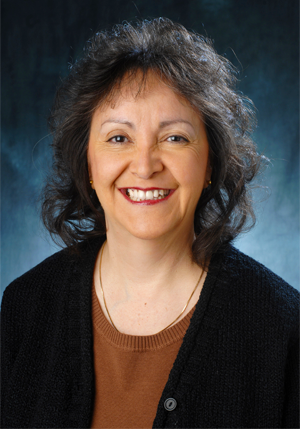 Over the years, she has had numerous job titles, but retires as program coordinator for Social Justice and Diversity Training at the Cultural Unity and Engagement Center. No matter what title she had, her goal always was to give students, especially minority students, what they needed to succeed in higher education. Her roles ranged from counselor to activist to negotiator.
On her retirement, the Cleo Estrada Student Support Fund was created to support on-campus activities for students and travel to conferences for student organizations. To donate, visithttp://www.cufund.org/ and click "Give Now" then select the Cleo Estrada Student Support Fund or make a check out to the University of Colorado Foundation, and note the Cleo Estrada Student Support Fund in the memo line.
Boulder has been her "home" for more than 40 years: She earned her bachelor's degree in psychology and a master's in counseling at CU-Boulder and worked toward a Ph.D. in education leadership and development at CU Denver.
Even so, she still has fond memories of the place where she grew up, in the San Luis Valley "in the little town of Center."
"I lived that kind of life where I could walk from house to house and all of my cousins and aunts and uncles took care of me," she says. "To come to Boulder and be isolated from all of that was a real culture shock. I didn't know anything about cities. I still don't understand them. People always tell me, 'You can take the gal out of the Valley, but you can't take the Valley out of the gal.'"
1. How were you introduced to the University of Colorado?
My family was involved in field work and farm work in the San Luis Valley. One day, a woman from Boulder came down and she found my aunt, who is kind of a community activist, and asked if there were any students who might want to go to Boulder to the university. My aunt identified me right away. I was head girl and in the honor society, but I had no intention of going to Boulder, maybe Adams State. But even that was a long shot because I didn't have any money.
We signed some papers, and the next thing I knew I was at Boulder. My mom and dad and aunt and uncle drove me up. I had never been to Boulder. I had never heard of Boulder. That was in 1969 and I was 17 years old. I lived in Farrand Hall and I loved it.
2. What was the beginning of your 40-year career with the university?
In my freshman year, I got involved with UMAS (United Mexican American Students) and their student support program, Education Opportunity Program (EOP). We were at the very beginning of the movement to give students of color access to higher education. I was hired to be a secretary for UMAS and that was in the middle of all the upheaval going on in the early '70s, from protests of the Vietnam War to takeovers of buildings. A lot of Latinos – we called ourselves Chicanos then – took part in that.
At the end of my freshman year, I was ready to go back to work in the fields, because it was what I knew. The coordinator of our tutorial program of the EOP program asked if I would work there. I became a Spanish tutor and psychology tutor and I never left. Later I became a writing teacher and much later, I was the interim director of that program, which was one of our academic services programs for students of color.
There were five EOP programs – one for Asians, one for African-Americans, one for Latinos, one Native Americans and one for migrants. I worked with the Migrant Action Program for many years. Then all those programs were collapsed into one and became the CU Opportunity Program. By this time I had earned a counseling degree and ended up working in the university's counseling program. My cases were all of those minority students.
Later, I became associate director of the Center for Multicultural Affairs. The program had many names before. In 2006, the university set up the Office of Diversity and Equity with a new director who seemed like she wanted to get us out of our positions so that she could staff the office with her own people. All of my colleagues left. I was determined to stay during this "blip" even though it was demoralizing. But I loved working with the students.
I was working on a Ph.D. but because I had a full-time job and there was a lot of stress, it took me longer than I expected. My department at CU Denver told me that I had run out of time and I ended up with an education specialist degree instead of a Ph.D. But it was always a goal for me to show students of color that we could succeed in higher education.
3. What are some of your favorite memories from your time at CU?
I spent my whole life trying to get students of color to stay in college. I worked hard at helping students figure out how to navigate a university system and go beyond that into a master's program and other degrees.
One of my Latina students wanted to get into a teaching program but she did not have the grades to do it. This was in the '70s so we had more ability to massage this. I had good relationships with the deans and I approached the dean of education and made a case for her and got her admitted. She's been a teacher ever since and she thanks me every day for helping her get into that profession.
I had some students who failed all of their classes. I've been one of the most active agents for getting students retroactive withdrawals, which is hard to do. But I have been successful petitioning for those when students get all F's in one semester because of a serious emotional or physical issue. Sometimes the colleges will wipe those grades out as a reprieve. One student failed everything and we had a repeat policy in place. I set up a whole academic plan for him: the classes he would take, the tutoring he would have, etc. At the end of the semester, he had all A's. I love helping students. I love the challenge; it's wonderful.
A few months ago, the Women's Resource Center named a scholarship in my name that recognizes my activism on campus.
4. What will you do now that you are retired?
I have another job. Every once in a while I would do some work at Safe House in Boulder and they hired me about two months ago. I'll be counseling victims of domestic violence. I'll be a tri-city counselor and will be working with people in Boulder, Longmont and Lafayette. I'll use my skills and get back into counseling.
The other thing I want to do is write a murder mystery. That's one of my goals. And I want to teach an ethnic studies class that would be a research class where students would be trained to get out there and look for all of the old Chicano movement people and document their stories. I feel like I'm one of the last people who can get this done because I know all of the activists.
5. Cleopatra is such a wonderful name. Why were you given this name?
People are really surprised about that name, especially for a Mexican-American woman. I'm not a tall person and I've carried this weighty name around all of my life. I tell people that my mom and dad just loved me. I think it was probably because Elizabeth Taylor's movie was out. But my aunt tells me a different story. We didn't have a hospital in Center and we were born in our houses. My cousin was born and was named Mark Anthony. When I was born in the same week, my aunt thought it would be great to call me Cleopatra. Everyone had a godmother and godfather and they were the ones who would get to name the child, so she named me. I always ask her, "Couldn't you have named me Maria like everyone else?"