SPOTLIGHT
Five questions for Bob Damrauer
50-year faculty member plays key role in CU Denver's growth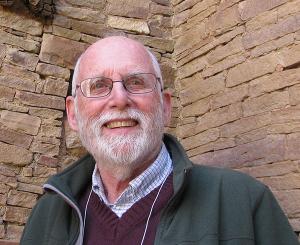 During the past 50 years, Bob Damrauer has been a shining element at the University of Colorado Denver. When he was hired in 1968, the fledgling educational institution was called the Denver Center and was housed mostly in the Tramway Building on 14th Street and was winkingly referred to as "UCLA" – the University of Colorado between Lawrence and Arapahoe.
The first years of his employment weren't exactly fabulous – he came to a department that had no equipment – but Damrauer and his colleagues worked through the void and he has continued through the years to help build the department and the university.
He was recruited by two forward-looking Boulder chemistry faculty members, Stan Cristol and Chuck DePuy, to help build a chemistry department. The two distinguished organic chemists, both departmental leaders, saw that Denver deserved a major university as it was becoming a major city in the United States, Damrauer said.
"When I came, the department was very small with only one recent hire, Denis Williams, with whom I worked for years to help build the department," Damrauer said.
A professor of chemistry, Damrauer also is an associate vice chancellor for research and special assistant to the provost. He served in other roles over the years and has been honored with many awards, including those for excellence in teaching and service.
During a recent gathering to celebrate his extraordinary feat, Chancellor Dorothy Horrell said, "Everyone in this room would have a Bob Damrauer story to share. … (He) has impacted each of us in extraordinary ways. Bob has never allowed this place to think that it could be anything but great."
1. How did you choose this career path?
I had an uncle, who had been a chemistry professor at Purdue, but returned to Toledo to start his own chemical company. He managed to find me a job with a friend at a small analytical lab when I was 15 or so. It was close enough to my home so I could ride my bike to work after school. Subsequently, I worked for years for my uncle at his company in an assortment of jobs with an assortment of people. I now know there was a distinct plan in that part of my education, since even though I was the boss's nephew, I worked with people of varied backgrounds and skills, all of whom had a lot to teach me about life and making my way in it.
A major influence on me after arriving in Denver was Paul Bartlett, the founding dean of the Engineering College. Somehow, I came under his wing: Every word I wrote, he carefully edited; every action I was considering, we discussed. He was a gentle mentor, but one whose standards and extraordinary work ethic spoke volumes to me.
2. You recently celebrated your 50th anniversary with the university. You've served as a professor, but also many other roles. Do you have a favorite?
I have loved more than anything being in the classroom and engaging students in learning. I have wanted students to love the things I love and to find ways to explore their worlds of interest. But, while I was asked to help build a chemistry department, I somehow also decided I wanted to be involved building something more, namely a quality university in this great city of Denver. So I have tried to do both and have enjoyed myself immensely.
My greatest passion outside the classroom has been in activities related to faculty development. In helping establish our Center for Faculty Development, chairing our highest-level Promotion and Tenure committee for many years, and heading our Office of Research Services, I have stayed close to the interests and needs of faculty, and, hopefully, had a positive effect on their career development.
3. What are your main research interests and how have they progressed over the years?
My research has concentrated on the study of silicon atoms inserted strategically into organic systems. Silicon is periodically related to carbon, but its behavior is different. My major research goals focused on preparing organic species that had silicon placed in stressful situations and studying the impact of its placement.
I began thinking about this as an MIT graduate student, but the actual work began in Denver. When I got to Denver, there was essentially no equipment or infrastructure in chemistry in Denver. That had to be acquired and built; lots of juggling was required to be scientifically productive. Largely undergraduate students initially wanted to work in my lab, after which a few graduate students from Boulder and local industry joined in the research efforts.
Every few years I have tried to make changes in my research focus, both to learn and keep challenged.
Some years after establishing a Denver laboratory presence, I began collaborating with Chuck DePuy and Ronnie Bierbaum in Boulder on some gas-phase ion chemistry that still probed the effects of silicon in organic systems, but did so in very different ways. That collaboration, along with running my Denver operation, lasted some 20 years. It was a remarkable one for us and our students, since the work being done by three independently funded and fundamentally different scientists provided special opportunities for students, postdocs and us.
The next research chapter arose when I decided I wanted to learn enough about computational chemistry to study some of the systems we had considered in the gas-phase. That work was greatly helped by my friend and colleague, Mark Gordon, a well-known theoretical and computational chemist at Iowa State. The wonders of email facilitated my education, since Mark would answer my questions quickly, no matter where he was in the world. His tutelage has led to several publications as well as some funding. More than that, it allowed me to begin to better appreciate an area of chemistry that has become of widespread importance.
There are several things I am proud of in this work: that it could be done at all under primitive initial conditions, that the conditions could be made so much better through the hard work and the support of many students, and the support of funding agencies and the university. I think I also can say that several research studies have had important impacts.
4. What are some of your favorite memories from your time at CU?
When I came to CU Denver, there were no silos. Departments were non-existent or tiny; we were all housed in a big building so your next-door office neighbor was more likely to be in English or history than chemistry. Friends made otherwise trying times not just tolerable, but very enjoyable and very stimulating.
I came when a number of faculty were hired as CU Denver was to "explode" into a great urban university. They came from fine institutions and had distinguished pedigrees. We concentrated our efforts on building CU Denver, many by devoting themselves largely to dedicated teaching, some by helping to manage the crises that we always seemed to face, and some by concentrating on their research efforts. There were many years of stress, none without challenge, and none that were not fun. My fondest memories are of the folks who have built this place.
I look out of my window today and see a real university that is both tribute and legacy to the efforts of so many. We have and continue to build an institution that takes seriously both teaching and scholarship, balancing them on a fine edge to showcase both.
5. What hobbies or leisure activities do you enjoy?
I am a reader primarily of nonfiction, mostly of history. I have spent a life trying to educate myself beyond the rigorous scientific education that was too science oriented. I have particular interests in science history, concentrating more than anything on the history surrounding the development of quantum mechanics, building of the atomic bomb, and the lives and times of scientific heroes like Einstein and Bohr.
Music occupies me a lot, mostly classical, more opera in the last few years.
I was an enthusiastic tennis and baseball participant for years, but now mostly walk for exercise, and dissemble about just how good I was at those sports.