SPOTLIGHT
Five questions for Alexander 'Sandy' Bracken
Former president reflects on memorable leadership roles across the university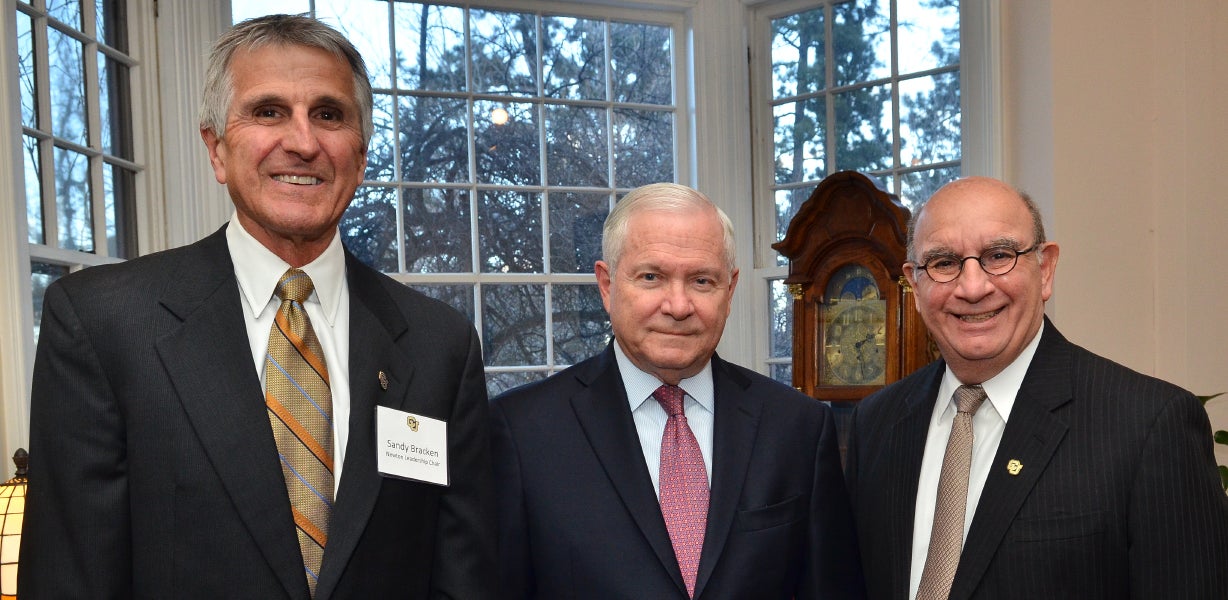 Given the many ways in which he has provided leadership for decades at the University of Colorado, it's not surprising that Alexander "Sandy" Bracken voices some ambivalence when congratulated on his recent retirement from CU.
"I guess congratulations is appropriate," he said, smiling. "I've always kind of shunned that word. 'Retirement' sounds like you're literally going off in the sunset, never to be heard or seen again, but obviously it's not the case. I think this is a good time to transition – so I'll use that word."
Though his official retirement – or transition – came at the end of 2018, Bracken has continued to help with the lead-up to the next installment of the Leo Hill Distinguished Leadership Speaker Series, which he launched in his most recent role as the Quigg and Virginia S. Newton Endowed Chair in Leadership at CU Boulder. The March 5 event features Abigail Posner, head of strategy for Google's Brand Unit.
Besides leadership roles at CU Boulder and CU Denver, Bracken notably served as CU's 19th president, in 2000, between the departure of John Buechner and the arrival of Betsy Hoffman.
"To serve as president was an incredible opportunity of a lifetime, indeed brief, but just terribly exciting and an experience I'll never forget," Bracken said. "I really appreciate that opportunity very much. It was a time when things were relatively tranquil at CU and, especially, on the Boulder campus (where the Office of the President then was located). There weren't raging issues during that time, other than the decreasing level of state funding for higher education, which has been a constant. A highlight was having the Law School approved by the CCHE (Colorado Commission on Higher Education) and being able to see that come to pass. The entire experience was terrific."
He later took on the Newton chair from founding chair holder and another past CU president, Hank Brown. The chair, which now is held by Chancellor Philip P. DiStefano, serves as a clearinghouse for campuswide leadership programs. The chair supports the activities of other programs, including the Presidents Leadership Class, INVST Community Leadership Program, CU Gold, ROTC units, Leeds Business Leadership Certificate Program, CU Athletics Leadership Development Program, Multicultural Leadership Scholars Program and the Engineering Leadership Program.
"It's been a great opportunity to work across academic disciplines, schools and colleges, and the athletic department," Bracken said. "Having the chair tied to the chancellor's title now gives even more visibility to its mission, which is to enhance and increase leadership development at CU Boulder."
1. You mentioned the word 'transition,' and your career has involved transitions from higher education into industry and then back again into higher ed. How did those changes come about?
My passion has always been higher ed. That's where I started and that's really what I've been most interested in and passionate about in terms of work and career. My first major job was teaching American history at Anderson College, a small liberal arts college in Anderson, Indiana, beginning in the mid-1970s until 1982. It was an exciting and special experience for my wife, Sally, and me, and we enjoyed our time there very much.
In the early 1980s we started thinking about relocating to a different part of the country. So I looked for teaching jobs in areas that would be attractive places to live and really didn't find anything that seemed too appealing.
I grew up in Muncie, Indiana, where Ball Corporation was then headquartered; the corporate headquarters relocated to Colorado in 1998. I had an opportunity to take a job with Ball here in Colorado – that and being able to move to Boulder became a very attractive combination of things. We moved out here in '82 and I was with Ball until 2000.
The job was tied to one of Ball's operating groups, Ball Technical Products, which included several divisions, one of which was Ball Aerospace. I managed the public relations and public affairs work for the group. That involved a variety of functions including internal and external communications, government relations, publications, marketing communications, etc. Maybe it's a stretch, but you could say, in a skill sets sense, there's a relationship between teaching and those activities.
I always wanted to stay connected to higher ed, and during my time with Ball I had the opportunity to be on several statewide commissions that were related to education. I was on the CCHE for eight years, which works with all the state institutions in Colorado. That experience allowed me to become much closer to CU, specifically, the Board of Regents and CU leadership.
2. After your time serving as CU president, you became executive director of the Bard Center for Entrepreneurship at the University of Colorado Denver's School of Business. What was that experience like?
I was there for six years starting in 2001. That was really fun, definitely a learning opportunity for me, and a very worthwhile experience of running the entrepreneurship center, which is now named the Jake Jabs Center. To be directly involved in the entrepreneurial world was exciting and very rewarding. The center offered courses in various areas of entrepreneurship and also housed an incubator for startup companies. Additionally, the center was the location for CU Denver's 11-month MBA program, so it was a great confluence of entrepreneurial activity.
3. While Hank Brown was the inaugural Newton chair, he relied on his experience as a past U.S. senator in connecting students with Washington, D.C. When you took on the role, how did things change?
When I came into it, I certainly didn't have the type of contact base that he had. My initial focus was to bring the existing leadership programs on the Boulder campus together. Those programs had never come together and talked with one another, which was a surprise. It was really an opportunity for them to share their respective leadership program focus and aspects of each program in terms of courses and co-curricular leadership activities.
From those initial discussions came the seed for what has become the leadership studies minor, which is a new academic degree program. It has really gained momentum since the first course was offered in the fall semester of 2014 to now having nearly 600 students enrolled.
We also created a leadership speaker series a couple of years ago. By bringing recognized and outstanding leaders to campus to share their "stories" of leadership growth and what they believe are the key factors to be an effective leader is an important aspect of leadership development. Secretary of Defense and Central Intelligence Agency Director Robert Gates was the initial speaker for that series. Mae Jamison, the first woman of color in space, was the second speaker. In March, we'll have Abigail Posner from Google. The address in Macky Auditorium is open to the campus and the Boulder and Denver communities. The feedback we've gotten from students is that it's really valuable in getting exposed to accomplished and exciting leaders who are recognized as being at the top of their respective fields.
The third leg of this stool, in addition to the academic program and exposure to outstanding leaders, is expanding experiential opportunities for students through internships and work experiences. It's important for students to actually practice leadership in a job or internship situation. Creating more opportunities for students to "do" leadership is key.
4. How do you define leadership in today's world?
The general notion of leadership has really changed over time. The style and character of leadership, the approach to leadership, has taken on more of a holistic nature. This is true whether it's leadership in for-profit entities, nonprofits, higher ed, government or elsewhere. Whatever the field, effective leadership needs to be inclusive between leaders and followers.
In the past, you would think of the typical hierarchal, top-down approach. In a corporate sense, the CEO would say, "We're going down this road, so get with the program." The military obviously comes to mind in that sense, too. Maybe less so in a nonprofit community, but still there was that kind of top-down command and control.
Over time, leadership has become less top-down, less hierarchal, and much more of a relationship. It's more about a leader being a team member, being a follower, in the sense that anyone who becomes a CEO of a corporation or a university has been a follower at some point in their career. To be an effective leader, you need to know how to work with and what it takes to motivate followers and to empower them.
The model of collaborative or servant leadership is an example of this. It means you're really assuming the role of your employees in many ways. You're understanding where they're coming from. You're understanding their motivations, what their aspirations are, how they can be a part of this great entity to make it the best it can be from where they sit and what they do.
It's an exciting time in leadership development and what it can mean for organizations. And, the need for effective leadership is always a top priority.
5. So what's next for you?
We're definitely not moving anywhere. Beyond that, I honestly don't know. I certainly want to stay engaged. I've been privileged over a lot of years to be engaged in the Boulder community in a number of nonprofits. I have been and am involved with boards and institutions that are very meaningful to Sally and me and our family, including Boulder Community Health, the Boulder Community Foundation, the United Way, the Boulder Chamber and others. We'll see what may come along. I've been very fortunate and very blessed and privileged since we moved to Boulder. It's hard to imagine it's been 37 years.
Serving as president was certainly the greatest privilege and greatest experience in an obvious sense, but all the experiences have been terrific. They have been opportunities to really work with people, work with students, work with faculty and staff across academic disciplines.
Serving as the Newton Chair has been great, in that you're involved in something that has the breadth of application, if you will, and the opportunity to add to a student's development through their experience at CU and beyond as they go into their career. Leadership is an important aspect of that. Ending with this, for me, is an exciting way to close the door.