SPOTLIGHT
CU draws $1.45 billion in sponsored research funding
Investment in discovery and impact tops $1 billion for fifth year straight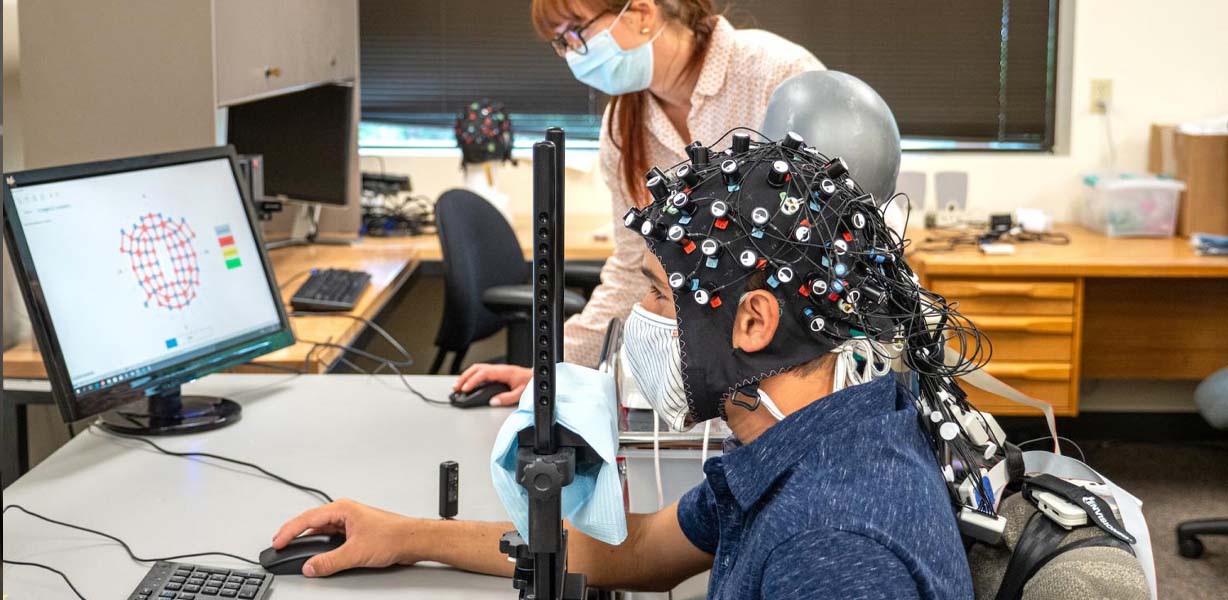 Glenn Asakawa/CU Boulder
University of Colorado faculty this year attracted $1.45 billion in sponsored research funding and gifts supporting research. The support fuels discovery and impact that benefits Colorado and beyond.
The 2020-21 systemwide total marks the fifth consecutive year that CU's annual sponsored research funding and gifts have topped $1 billion. This year's tally increased 3% over the previous year's $1.41 billion mark.
"In addition to meeting Colorado's workforce and education needs, CU is distinguished by the far-reaching and profound impact of its research and discovery," said President Todd Saliman. "That our faculty continue to attract such impressive levels of funding speaks volumes about the caliber of their work and its potential to transform lives."
Federal agencies award most of CU's sponsored research funding. In 2020-21, CU received $868.7 million in federal awards and $427.5 million in non-federal awards. Gifts toward research via the CU Foundation added $148.8 million.
Following are the year's totals in sponsored research funding and gifts at each of the four CU campuses, plus highlights of the endeavors that are advancing knowledge, inspiring innovation, fostering creativity and improving quality of life for Coloradans:
University of Colorado Anschutz Medical Campus: $770.3 million. Faculty from the CU Anschutz Medical Campus contributed to many aspects of addressing the COVID-19 pandemic. The Colorado School of Public Health and colleagues from other CU schools, led by Dean Jon Samet, M.D., and Lisa Miller, M.D., and Elaine Scallan Walter, Ph.D., worked with the Colorado Department of Public Health and Environment on COVID modeling, contact tracing and public health initiatives, assisted by $3.7 million in funding. Having received $11.7 million, Thomas Campbell, M.D., and Myron Levin, M.D., facilitated vaccine trials for adults and children. Adit Ginde, M.D., received over $8.7 million to lead trials to help define the use of monoclonal antibodies and other new therapies to treat those with COVID infections.
University of Colorado Boulder: $634.4 million. A new $20 million research collaboration led by CU Boulder and called the U.S. National Science Foundation (NSF) AI Institute for Student-AI Teaming is exploring the role that artificial intelligence could play in the future of education and workforce development – especially in providing new learning opportunities for students from historically underrepresented populations. The new institute is led by Sidney D'Mello, Ph.D., a professor in the Institute of Cognitive Science and the Department of Computer Science. The five-year project brings together a team of researchers from nine universities in close collaboration with two public school districts, private companies and community leaders, and taps researchers from across the CU Boulder campus. Read more in CU Boulder Today.
University of Colorado Denver: $24.3 million. The National Human Genome Research Institute awarded Audrey Hendricks, Ph.D., associate professor in the Department of Mathematical and Statistical Sciences, $2 million as part of its 2020 Genomic Innovator Awards. Hendricks will develop efficient methods to improve the use of genetic summary data that will help make huge genetic databases useful regardless of ancestral background. Because many databases include mixtures of ancestry, such as "African American" samples including both African and European ancestry, incorrect research can occur, leading to difficulty in studying underrepresented populations. Hendricks seeks to ameliorate this inequity and improve research and clinical use of genetics. CU Denver's aspiration to be internationally known for its research and creative work, as described in the 2030 Strategic Plan, is advanced by these types of leading-edge projects.
University of Colorado Colorado Springs: $15.9 million. Gedare Bloom, Ph.D., assistant professor in the UCCS Computer Science Department, received a National Science Foundation CAREER award of $600,000 for his research project "Foundations for Real-Time System Security." This project aims to solve problems in a wide range of systems people use every day, exploring solutions for security in vehicles like cars and semi-trucks; industrial control systems such as power grids, water plants and particle accelerators; and space systems including satellites, solar probes and rovers. Bloom plans to write a new textbook about real-time system security so that students around the world can benefit from the project's outcomes.
Sponsored research funding from federal, state, international and foundation entities targets specific projects to advance research in laboratories and in the field. Research funding also helps pay for research-related capital improvements, scientific equipment, travel and salaries for research and support staff and student assistantships. CU cannot divert this funding to non-research-related expenses.
A significant amount of sponsored research funding is directed to departments and researchers with unique expertise, such as biotechnology and aerospace, which stimulates industry.