SPOTLIGHT
CU Denver program helps incarcerated learners reach milestone
'Graduation' ceremonies recently held at two correctional facilities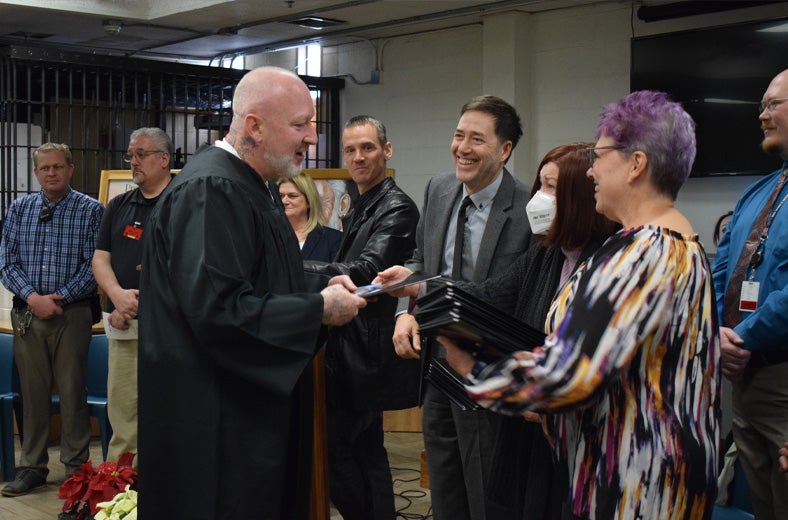 Photo courtesy of Carie Canterbury/Canon City Daily Record
A CU Denver partnership with the Colorado Department of Corrections (DOC) recently celebrated a milestone, holding "graduation" ceremonies for incarcerated learners who completed a seven-class sequence leading toward a Certificate in Strategic Communication.
The Dec. 15-16 events recognized students who are incarcerated at the DOC's Territorial Correctional Facility in Canon City and Sterling Correctional Facility.
Led by Stephen Hartnett, professor from CU Denver's communication department, CU's Prison Education program offers college communication classes aimed at giving prisoners the skills and confidence to return to their communities.
"Everybody knows education reduces recidivism," Hartnett said. "It's the elevator to justice. It reduces burdens on the taxpayer. There's a lot of good."
The December events inspired strong emotions from the students and their family members present, Hartnett said. He and other CU colleagues were moved, too.
"These guys have lived really hard lives," Hartnett said of the students. "They've done damage to their families and communities. And they know it. There's not a whole lot of victories. So on a day like that, where we're celebrating each other and handing out certificates and they feel a sense of accomplishment, it was really sweet.
"You know, we kind of take that stuff for granted – we do (commencement) three times a year on our campus. But for those guys, that's one of the most special days they've had in decades. So is it gratifying? You bet it is. For the students, they've had so few wins. So anytime they get one, it's amplified."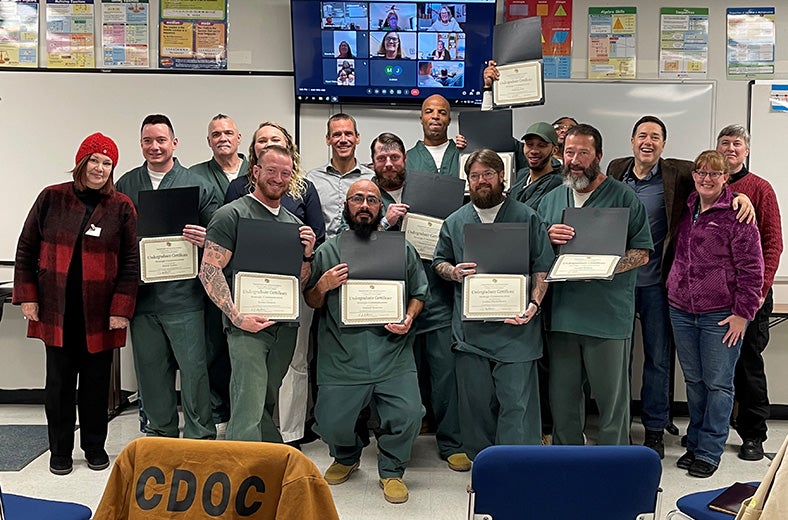 Building on years of CU Denver classes taught in the prison system, the Prison Education program began accelerating in 2020 through a CU working group inquiring into the university's use of the Colorado Correctional Industries. CU Regent Sue Sharkey, who just recently departed the board after serving for 12 years, also lent vital support.
"Kudos to Regent Sharkey for putting her name and her reputation out there to support this work," Hartnett said. "The support from President Todd Saliman, (Academic Affairs) Vice President Michael Lightner and the Faculty Council all have been fantastic."
The program will continue to evolve in the spring semester, Hartnett said, with one class being offered to the existing cohort at Sterling, two classes and the recruitment of new students at Territorial, and one class for a new cohort of students at Four Mile Correctional Facility in Canon City. At the request of students, a class from CU Denver's School of Business also is being added to the curriculum.
Another key step for the program is its pursuit of being named a Pell Grant-eligible institution by the Colorado DOC and the Federal Department of Education. If successful, that would mean CU Denver and other higher education institutions across the country will be able to offer college in prison where tuition is paid with Federal Pell Grants, starting as soon as next fall. That in turn could lead to students who are now earning certificates moving forward as bachelor's degree-seeking students.
"This is the hard work of making democracy work," Hartnett said. "The bigger picture is that we're bringing communities that have been excluded from the process into the process. We want these students not only to get their degrees, but we're training them to be civic leaders when they get back to their communities."