PEOPLE
Yang invited to plan for Annual Meeting of the New Champions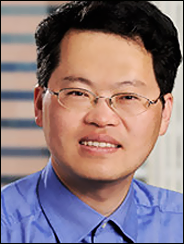 CU Denver Business School finance professor Jian Yang is one of 11 experts who has been invited to the brainstorming meeting to prepare for the 2014 World Economic Forum summer Davos meeting -- or the Annual Meeting of the New Champions.
The meeting is a summer session, continuing work from the 2014 World Economic Forum winter Davos meeting, which was held Jan. 22-25, 2014, and will be in Tianji City, China in September.
The meetings are being convened to discuss innovations in science, technology, society and business. Last month's session featured esteemed speakers, including Microsoft founder William (Bill) Gates, journalist and commentator Arianna Huffington, U.S. Vice President Joe Biden, and Philip J. Jennings, General Secretary, UNI Global Union.