PEOPLE
Yakacki serves as guest editor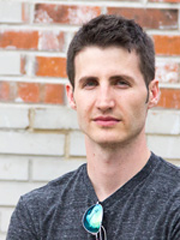 Chris Yakacki, assistant professor of College of Engineering and Applied Science (CEAS), mechanical engineering at CU Denver, recently served as a guest editor for Polymer Reviews, the second-most cited polymer review journal. As guest editor, he created a special issue titled, "Shape-Memory and Shape-Changing Polymers."
"Shape-memory and shape-changing polymers are a dynamic class of materials that can challenge and transform the way we look at engineering materials," Yakacki said. "I wanted to create an issue that covered as many aspects of these materials as possible: ranging from how to characterize their behavior, to how they can be utilized for medical devices, to how researchers can model their behavior. The issue has some great contribution from leaders in the field from all over the world."
The opportunity to serve as a guest editor came as part of the CU Denver External Research Mentor Program. Yakacki won the award last fall with Patrick Mather of Syracuse University as his mentor. Mather is the director of the Biomaterials Institute at Syracuse and serves on the editorial board of Polymer Reviews. He also visited the college as part of the CEAS seminar series in March.