PEOPLE
Wallace to lead School of Medicine branch in Colorado Springs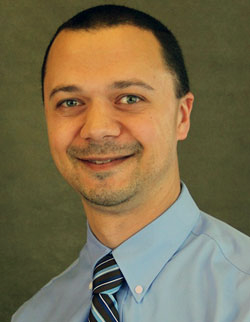 Erik Wallace, an associate professor of internal medicine at the University of Oklahoma College of Medicine, Tulsa School of Community Medicine, will join the University of Colorado School of Medicine on Jan. 21, 2014, as the associate dean for the new branch in Colorado Springs.
The University of Colorado School of Medicine is establishing a branch in Colorado Springs to train more physicians in Colorado and to provide exceptional patient care throughout the state.
Beginning August 2014, the School of Medicine will increase the number of students enrolled in its M.D. program to 184 from the current 160. When third- and fourth-year clinical training begins, 24 students from each class will conduct their training through the Colorado Springs branch.
"Through collaboration with key stakeholders in Colorado Springs and surrounding communities, the Colorado Springs branch will provide a unique and outstanding experience for education and training of our medical students to become 21st century physician leaders who are committed to serving their communities," said Wallace. "I am honored and thrilled to help lead the development and implementation of the Colorado Springs branch."
In his role as associate dean, Wallace will be responsible for ensuring that appropriate and ongoing support and resources are available to provide medical education programs. He will collaborate with Colorado Springs hospitals, physicians and School of Medicine faculty to recruit physician preceptors in Colorado Springs.