PEOPLE
University staff member Powers retires after 22 years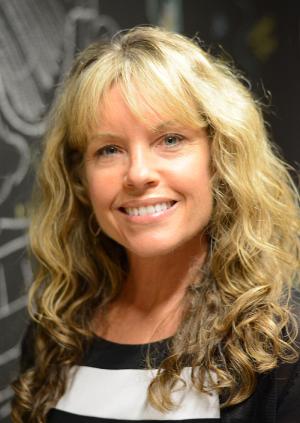 Longtime university staff member Sharon Powers (CU Boulder Comms '92) retires at the end of this month, wrapping up a 22½-year career at CU Boulder.
Beginning in 1997 as an assignment coordinator for family housing, she became executive assistant to the dean of the College of Engineering and Applied Science in 2000. Over the next 17 years, she worked under four deans, doing double-duty for seven years as program assistant to the Balsells Fellowship Program, a pipeline that brings outstanding engineering students from Catalonia, Spain, to study at CU Boulder.
Since September 2017, Powers has served as senior assistant for programs and engagement with the ATLAS Institute, where she has made herself invaluable to the graduate program in the areas of outreach and program coordination.
Friendly and good-humored, Powers connects with colleagues and co-workers with warmth and kindness. At ATLAS, she meticulously coordinates numerous social gatherings and meetings, welcoming guests with a warm smile, setting a friendly and informal tone. She supports the graduate program in numerous practical ways, solving administrative problems and serving as a nexus for information. At the same time, she is a cheerleader and a community-builder, organizing social gatherings for students and showing interest in their projects.
"Sharon is a friend to all, lending a kind and generous ear to students, faculty and staff in need," said Jill Dupré, associate director for ATLAS. "We will miss her tremendously."
Former colleagues tell a similar tale: "In many ways, Sharon was the friendly face and social organizer for the dean's office, greeting visitors with a smile or a friendly voice on the phone," said Rob Davis, dean of the college 2002-2017. The effect was to put visitors at ease, said JoAnn Zelasko, an assistant dean who worked next door to Powers for 14 years: "Many guests were nervous about seeing the dean. Sharon helped each of them feel more comfortable."
Associate Dean for Faculty Advancement JoAnn Silverstein recalled, "I always looked forward to stopping by Sharon's office; it was a guaranteed lift to my day, and many other people as well." ATLAS Director Mark Gross remarked, "I wish every organization on campus could have someone who is at once as capable and cheerful as Sharon; but Sharons simply don't grow on trees."
True enough, but it wouldn't be too surprising to find Powers in a tree — if a scalable rock wall isn't close at hand. An avid climber, Powers has been seen on more than one occasion climbing the walls of the Engineering Center after work. "I truly drove her up the wall," joked Ross Corotis, the first dean Powers worked for in 2000.
Powers looks forward to spending more time climbing and pursuing other hobbies and interests: skiing, hiking, biking, gardening and yoga. And while she won't be showing up every day on campus, the many connections she has made on campus mean her presence will be felt throughout the CU Boulder community for years to come.
A reception celebrating Sharon Powers' retirement is set for 2:30-4 p.m. Monday, Dec. 16, in the ATLAS Byyny-Schnabel Lobby, followed by happy hour at 4:30 p.m. at The Med (cash bar). Friends, colleagues past and present, and students are invited to attend.