PEOPLE
UCCS celebrates Regent Emeritus Bishop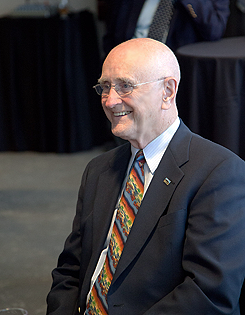 CU Regent Emeritus Tillie Bishop and his wife, Pat, were toasted by current and former members of the Board of Regents, elected officials and University of Colorado Colorado Springs administrators at an event earlier this month. They used words such as statesman, mentor and leader to describe the legendary 78-year-old legislator from Grand Junction.
But it was Chancellor Pam Shockley-Zalabak who recognized Bishop as a hometown hero, noting that both Tillie and Pat Bishop grew up in Colorado Springs and attended Colorado Springs High School – now Palmer – before moving to the Western Slope where they made a lasting impact. For more than 30 years, Tillie Bishop held administrative positions at Colorado Mesa University, dating to a time when it was a two-year college. Pat Bishop spent more than 30 years as a public school educator.
Calling his wife the "speaker of the house" as well as "chair of the budget committee," Tillie Bishop shared credit for his success with Pat and cited their 60-year marriage as a cornerstone of his personal and professional success. He also cited the faculty at each of the CU campuses for building a great university.
Tillie Bishop was first elected to the Colorado House of Representatives in 1970 and served in both the House and Senate for 24 years, the last six as senate president pro tem. He is the fourth-longest serving member of the Colorado General Assembly in Colorado history and also served as a Mesa County commissioner. His six-year term to the Board of Regents ended in 2012 when, citing health concerns, he did not run for re-election.
As a legislator, Tillie Bishop was known for his support for education as well as for being what CU President Bruce Benson called a "common sense conservative." He introduced 736 bills during his time in the General Assembly; 456 were signed into law. He also sponsored 147 resolutions and 32 memorials, making him one of the most successful legislators in Colorado history.