PEOPLE
Tompkins collaborating with Denver firefighters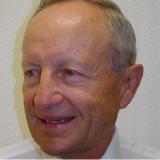 Phillip K. Tompkins, emeritus professor of communication comparative literature at CU-Boulder, is working with firefighters in the Denver area to implement recommendations in his book, "Managing Risk and Complexity Through Open Communication and Teamwork," which was published in August.
He signed the best-selling book, published by Purdue University Press, in August at the Tattered Cover Book Store and in October at Purdue University. While there, he also met with archivists and an oral historian to record an interview with him about his experiences as summer faculty consultant to Wernher von Braun, director of NASA's Marshall Space Flight Center during the Apollo Program, which successfully placed a man on the moon. Tompkins has tentatively agreed to donate his NASA papers to the Purdue University Archives.
While at Purdue, Tompkins also delivered the inaugural Phil Tompkins Distinguished Lecture, which was organized by the Brian Lamb School of Communication.