PEOPLE
Swain honored for contributions to tech-enhanced teaching and learning community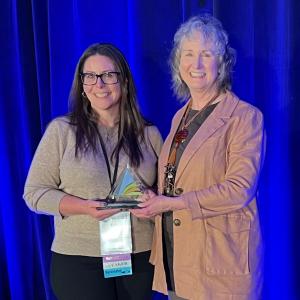 Erika Swain, assistant director for compliance and authorization at CU Boulder and associate director of state authorization at the CU system, recently was recognized as the 2022 Sally M. Johnstone Award recipient at the annual Western Interstate Compact for Higher Education's (WICHE) Cooperative for Educational Technologies (WCET) conference.
The award recognizes a professional who has made a significant contribution above and beyond his or her "rank" to the technology-enhanced teaching and learning community. The criteria include thought-leadership, excellence in practice, and demonstrated leadership capabilities.
Swain is a leader with WCET's State Authorization Network (SAN) as she volunteers regularly and serves on the SAN Advisory Group. She also leads the SAN Professional Licensure Special Interest Team, generously sharing advice, humor and resources with the WCET community through basics and advanced topics workshops and as a community mentor. This year she co-authored a checklist for complying with professional licensure regulations and requirements and gave a session in the SAN Member Policy Series on regular and substantive interaction.
According to SAN, "Erika is always eager to contribute and collaborate and we frequently rely on her expertise and wit to round out our programming. Erika's contribution is certainly outsized and exceeds her professional rank."