PEOPLE
Simpson to visit Anschutz Medical Campus as part of lectureship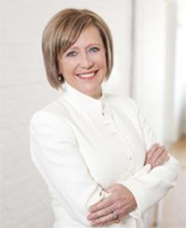 Lisa Simpson has been named the recipient of the prestigious Chancellor's John J. Conger Lectureship and Visiting Professorship. She will be at Children's Hospital Colorado and the Anschutz Medical campus March 7-8.
Simpson is the president and chief executive officer for AcademyHealth, the leading national organization serving the fields of health services and policy research and the professionals who produce and use this important work. She was invited by Allison Kempe, professor of pediatrics, Children's Hospital of Colorado and director of the Center for Research in Implementation Science and Prevention (CRISP), and Steve Berman, professor of pediatrics, Children's Hospital Colorado Chair in General Pediatrics and director, Center for Global Health, Colorado School of Public Health.
She will present "Child Health Services in a Post Affordable Care Act World: What Do We Need to Know?" from 12:30 p.m. to 1:30 p.m. March 8 at Children's Hospital Colorado.
Representing AcademyHealth's nearly 4,600 members, Simpson is a leading advocate for the translation of research into policy and practice, and for the support and training necessary to continue improving the relevance and rigor of the health services research enterprise. Since joining AcademyHealth in 2011,   Simpson has worked to raise the visibility of the field of health services research and its contributions to improving the quality, value and accessibility of care, reducing disparities, and improving health.
A nationally recognized health policy researcher and pediatrician, Simpson's research focuses on improving the performance of the health care system and includes studies of the quality and safety of care, health and health care disparities and the health policy and system response to childhood obesity. Before joining AcademyHealth, Simpson served as the director of the Child Policy Research Center at Cincinnati Children's Hospital Medical Center and professor of pediatrics in the Division of Health Policy and Clinical Effectiveness, Department of Pediatrics, University of Cincinnati. She also served as the deputy director of the Agency for Healthcare Research and Quality from 1996 to 2002.