PEOPLE
Scott promoted to senior executive director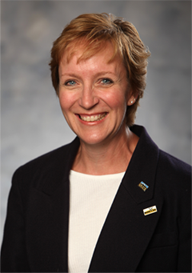 Gayanne Scott, executive director of the Division of Resource Management at UCCS, will become senior executive director of human and financial resources in the Division of Resource Management.
Scott will supervise Jeanne Durr, executive director, Office of Human Resources, Suzanne Scott, budget director, Julie Brewster, controller, and Steve Medlin, director, Office of Student Financial Services.
Gayanne Scott joined UCCS in 1989 as an accountant and held several accounting and budget analyst positions before being named budget director in 2003, resource management director in 2005 and executive director in 2008. In that role, she provided oversight of the UCCS budget and modeling for accurate revenue and expenditure estimates and worked closely with university leadership, the University Budget Advisory Committee and the CU system.
She previously earned Employee of the Month honors and the UCCS Outstanding Service Award. She earned a bachelor's degree in business from UCCS in 1987.