PEOPLE
Schroeppel project wins LoDo Alleys award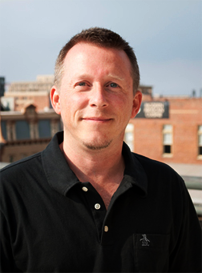 Ken Schroeppel, director of Professional Engagement and instructor in the Master of Urban and Regional Planning (MURP) program in the College of Architecture and Planning (CAP) at CU Denver, has been recognized for his Denver LoDo Alleys studio project.
Planning Project Studio is the MURP program's advanced studio course that provides graduate urban planning students with the opportunity to complete a major planning project for a real-world client.
Schroeppel coordinated his Spring 2014 studio course with the Downtown Denver Partnership to prepare several alternative Lower Downtown Alleys Concept Plans. The students' plans provide a vision for enhancing the historic district's vitality by making strategic physical improvements, installing innovative green infrastructure, creating micro public spaces, and adding economic and cultural activities to LoDo's alleys.
The students' final presentations were held, appropriately, in an alley behind Larimer Square at an event branded as "Larimer Square Backyard." Larimer Associates, the organization that manages Larimer Square's commercial spaces and public areas, sponsored the event along with the Downtown Denver Partnership. Schroeppel's students presented their LoDo Alleys Concept Plans to the 100-plus people in attendance; the event also included refreshments, games, and plenty of interaction between the students and the public.
In recognition of this unique public/private/educational event, "Larimer Square Backyard" won the 2014 "Best Urban Public Space Project" award from Downtown Colorado Inc., a statewide non-profit organization that works to improve downtowns throughout Colorado and presents the Governor's Awards for Downtown Excellence at their annual conference. The Master of Urban and Regional Planning program, the Downtown Denver Partnership, and Larimer Associates received the award as a team.
Schroeppel said this studio project was conceived to spark a community conversation about the future of LoDo's alleys and to help launch a multi-year process by the City of Denver and the Downtown Denver Partnership to upgrade alleys throughout the downtown area.