PEOPLE
Schrier honored by American Heart Association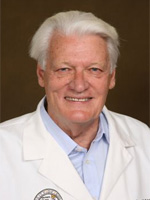 The American Heart Association has announced that Robert W. Schrier, M.D., is the 2012 recipient of the Eugene Braunwald Academic Mentorship Award from the American Heart Association. The honor identifies and honors individuals whose academic careers have included at least 20-25 years of successful mentoring of promising young academics.
The mentoring can be in any field of fundamental or clinical research consistent with the mission of the American Heart Association or other academic pursuits such as education. The award is given based upon a consistent record of molding the careers of multiple individuals.
Schrier, professor, Medicine-Renal Med Diseases and Hypertension, CU School of Medicine, is a past president of the Association of American Physicians, International Society of Nephrology, American Society of Nephrology and the National Kidney Foundation. His research has included interactions between the heart and kidney. He has mentored more than 100 young physicians who are now leaders around the world.
Schrier will be honored during the opening ceremony of the American Heart Association's Scientific Session on Nov. 4 in Los Angeles.